2020 VISION
The $2.6-billion centerpiece of Stan Kroenke's $5-billion vision for Inglewood development passes halfway mark
Friday, September 28, 2018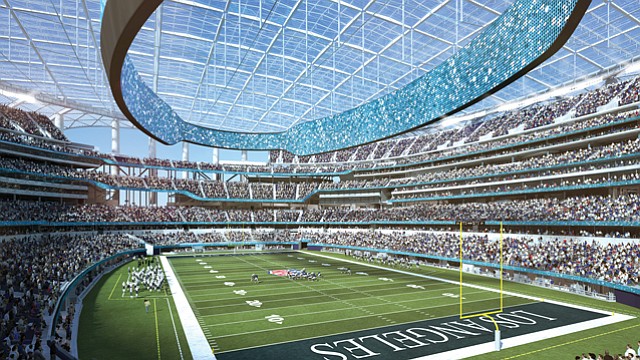 How big is the L.A. Stadium and Entertainment District at Hollywood Park?
"The scope and scale is really befitting of Los Angeles," A.G. Spanos, the Los Angeles Chargers' president of business operations, said last month during a media tour of the 298-acre site next to the Forum in Inglewood. "You can walk around and see things that have just not been done before."
Start with the largest canopy in the world, which eventually will rest on 38 precast columns. A steel compression ring and a cable net system will suspend a single layer of ethylene tetrafluoroethylene (ETFE) over the stadium, allowing open air space between the uppermost portions of the structure and the canopy, a first in the National Football League.
The stadium is billed as the largest structure to be covered by a canopy, which will ride above an oval-shaped, digital display screen for images and messages above the field of play.
The recent tour marked the halfway point of the construction of the stadium, which will become home to the Chargers and the Los Angeles Rams – owned by Stan Kroenke, who's developing the stadium as the anchor of a larger mixed-use development project pegged at $5 billion and slated to eventually include commercial, retail, hospitality and residential components.
The football teams are expected to start playing there in 2020, with a separate lineup of additional marquee events of the sporting world already taking shape.
Casacchia is a reporter with the Orange County Business Journal, a sister publication of the Los Angeles Business Journal.
For reprint and licensing requests for this article, CLICK HERE.