Trains to Planes
Crenshaw-LAX line nears completion, will add 8.5 miles to local rail network
Friday, September 21, 2018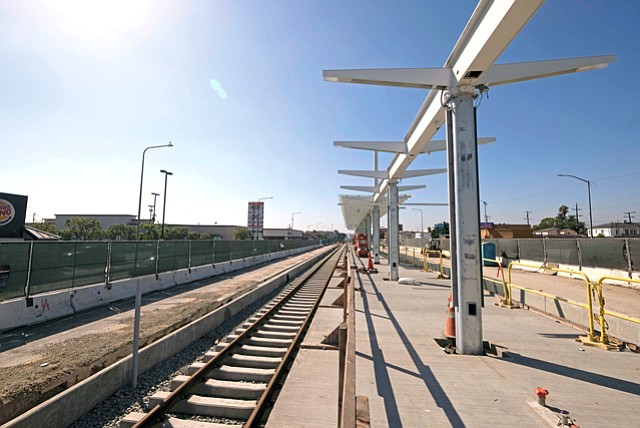 L.A.'s public transit building boom remains on track with the 8.5-mile, $2.06 billion Crenshaw-LAX light rail line set to open late next year.
The Los Angeles County Metropolitan Transportation Authority project, which began construction in early 2014, is now 85 percent complete and will connect the Expo Line just south of the 10 Freeway with the Green Line near Los Angeles International Airport. The new route will finally provide a rail link to LAX – although a people mover to take passengers from trains to the airport's terminals is a few more years away.
The northern half of the rail line travels down one of south Los Angeles' iconic streets, Crenshaw Boulevard, passing through the African-American communities of Leimert Park and Hyde Park. Then it heads southwest through downtown Inglewood, near the Forum, the future National Football League stadium that will be home to the Los Angeles Rams and the Los Angeles Chargers, and the future home of the Youth Orchestra of Los Angeles center being designed by architect Frank Gehry.
The route then curves south towards Los Angeles International Airport, where the future Aviation/Century station will connect to the automated people mover now under construction. The people mover eventually will be available to whisk passengers directly to the LAX terminal, with a projected opening in 2023.
Most of the route will be above-ground light rail, according to the Los Angeles County Metropolitan Transportation Authority, but three segments will be below grade: a one-mile tunnel that has already been bored underneath Leimert Park; another one-mile trench through Hyde Park; and a shorter stretch near the LAX runways.
A transportation authority spokesman said last week that most of the excavation work and all of the above-ground station platforms have been completed for the eight stations along the rail line. Street restoration in the areas around the underground stations is currently underway, scheduled to be completed late next year, when the rail line is now set to open.
The Crenshaw-LAX line also will connect with 16 bus routes along its 8.5-mile length.
The project is principally funded through Measure R, the half-cent sales tax increase approved by Los Angeles County voters in 2008, with some other local funding sources. The federal government loaned Metro roughly $550 million in "fast-track" funds for the project, and Metro has committed to pay off the obligation with Measure R tax revenue.
The contract team on the Crenshaw-LAX project, known as Walsh-Shea Corridor Constructors, is made up of five principal companies: Walsh Construction Co.; J.F. Shea Construction. Inc.; HNTB Corp.; L.K. Comstock National Transit Inc.; and Arup.
For reprint and licensing requests for this article, CLICK HERE.