Loans in Line
Tight housing supply appears to keep market stocked with credit-worthy borrowers
Friday, September 14, 2018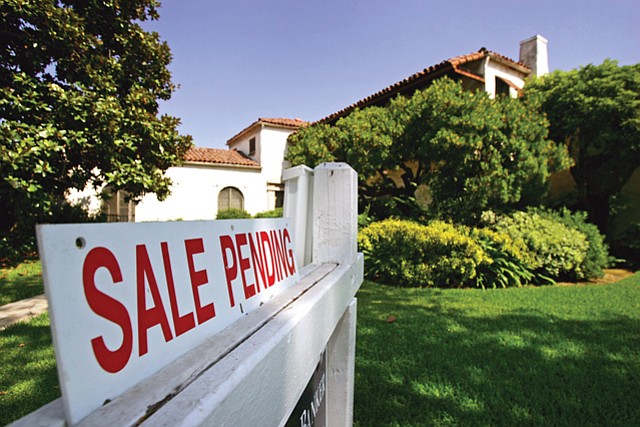 Concerns over the high price of housing in Los Angeles County continue to mount, with approximately 26 percent of the population able to afford a single-family home at the second-quarter median price of $557,200, according to the Koreatown-based California Association of Realtors' housing affordability index.
The index indicated that after a 20 percent down payment, a 30-year mortgage at an interest rate of 4.7 percent would produce a monthly payment of $2,950 – including taxes and insurance – on a home at the median price. The realtors' association estimated that an annual income of at least $118,000 would be required to afford that payment.
The median household income in L.A. County is $57,952, according to the U.S. Census Bureau's most recent statistics.
But some good housing market news can be found in data from Irvine-based analytics firm CoreLogic Inc., which shows that buyers who can borrow to get into the market are making good on their loan obligations at historically strong rates even as median home prices continue to rise (see chart on median price).
The national rates for the 30-day, 90-day and foreclosure categories are the lowest in 12 years, and L.A. County's marks were significantly lower in each case (see charts on delinquency, foreclosure rates).
The national rate for mortgages that are between 30 and 59 days past due stood at 2 percent in June, unchanged for a year earlier.
The share of mortgages considered in serious delinquency – more than 90 days past due, including loans in foreclosure – was 1.7 percent in June, down from 1.9 percent a year earlier, and the lowest for any month since August 2007, prior to the Great Recession.
The national rate for mortgages that shifted from current to 30 days past due in June came to 0.9 percent, unchanged from a year earlier and less than half the 2 percent mark recorded in November 2008, the high-mark for the measurement during the recession.
"A solid labor market enables more homeowners to remain current on their mortgage," said Frank Nothaft, chief economist for CoreLogic. "The national unemployment rate in June 2018 was 4 percent, the lowest for June in 18 years."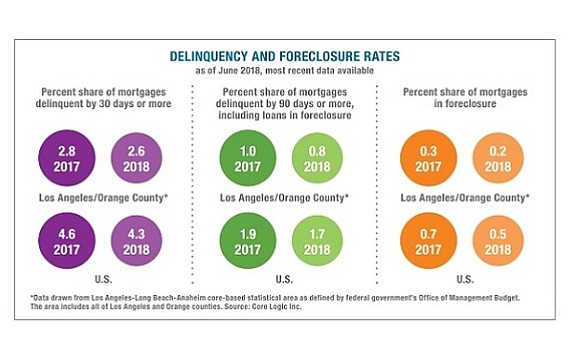 For reprint and licensing requests for this article, CLICK HERE.