Is Live Nation Legal?
Live music outfit prompts cries of antitrust from competitors, congressmen
Friday, September 7, 2018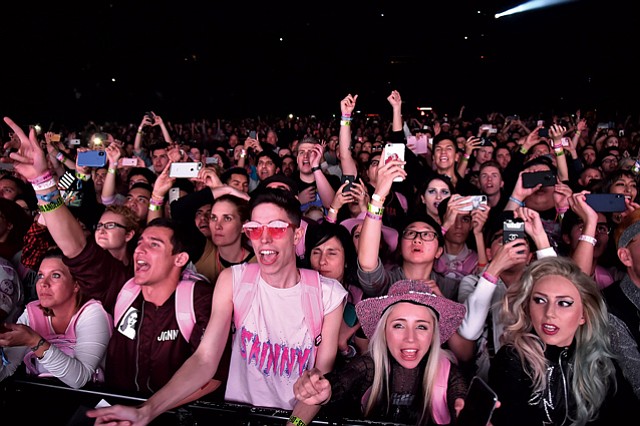 What didn't come up during Beverly Hills-based Live Nation Entertainment Inc.'s earnings call last month said plenty – not a word from the live music production and promotion company's top executives, Wall Street analysts, journalists or shareholders about a reported review by the Justice Department's Antitrust Division.
What did come up said even more, offering resounding notice that Live Nation has no plans to curb its ambitions.
"This year we expect to promote 20 of the top 25 global tours," company president Joe Berchtold said during the call.
"We think we are somewhere in the 20 to 30 percent global market share" for promoting music concerts and festivals, added Chief Executive Michael Rapino, with a "huge opportunity" for growth.
The bid for global supremacy follows a domestic blueprint that has made Live Nation the U.S. live music industry's inescapable force.
Of every 100 concert tickets bought on the primary market in the U.S., 80 are sold by Live Nation, according to trade publication Pollstar. Every person interviewed for this article said that Live Nation has a monopoly on the consumer-facing primary ticket market for arena-sized live music events.
The company's hold on direct sales to consumers is backed up by exclusive licenses as primary ticket seller for 80 percent of the largest venues in the U.S. And then there's Live Nation's 60 percent share of the U.S. market for concert promotion services, such as bookings, logistics, sponsorships and advertising.
$10.4 billion market cap
Little wonder Live Nation's stock is near an all-time high, trading at $49.41 per share at market close Sept. 5, for a market capitalization of about $10.4 billion. The company notched $69.3 million in earnings on about $2.9 billion in revenue in the second quarter.
Its annual revenue reached $10.3 billion last year, up nearly 24 percent from 2016, and almost 43 percent compared with 2015.
Last year's revenue jump, however, was offset by costs that have come with legal challenges. An operating profit of $90.4 million for 2017 turned into a net loss of $6 million thanks in part to a $110 million settlement paid in late 2017 to Songkick, which contended Live Nation broke anti-trust laws by blocking its access to advance sale tickets and demanding a cut of its sales.
Live Nation followed the settlement with an acquisition of Songkick's assets on undisclosed terms.
Those moves came a few months before the New York Times reported in April that the justice department is reviewing Live Nation's compliance with a 2010 consent decree. The consent decree was put in place after Live Nation acquired Ticketmaster – the deal that pushed Live Nation's share of the live music ticketing industry toward 80 percent.
Prev Next
For reprint and licensing requests for this article, CLICK HERE.