Budget Beauty Bar Draws Outside Investment
Face Haus adds locations in Santa Monica, USC Village, Manhattan Beach
Friday, September 7, 2018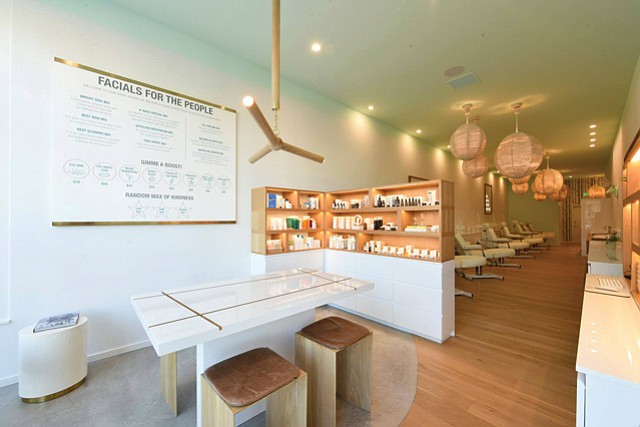 West Hollywood-based Face Haus, a beauty bar whose slogan is "facials for the people," opened its fourth location late last month and has plans for another already in the works.
The company started as a mostly self-funded project undertaken by three friends-turned-entrepreneurs. The recent expansion, however, has been underwritten by an undisclosed amount of outside investment it brought in earlier this year, according to Jenn Worley, one of the founders.
The capital infusion came from a group of investors who helped grow New York-based Bliss Spa, a spa and skincare company, Worley said, declining to provide further details.
Worley, Karey Burke and Dawn Olmstead started working on the idea of a spa that skipped pricey amenities in 2013, after the tab for a facial party for a bunch of teenagers came to $150 per facial.

They pooled their personal savings and opened the first Face Haus in Studio City in late 2011, and West Hollywood followed a few years later. The outside investment led to the opening of a location in Santa Monica in July, and then came the most recent opening at USC Village. A fifth location is planned for Manhattan Beach in November, with plans to expand for the first time out of state, to New York, later this year.

The company counts 65 employees, with revenue projected to hit a $10 million annual pace by the first quarter of 2019, Worley said.
The key is a focus on basics.
"The whole idea behind this is to make facials accessible to everyone," Worley said. "No private rooms or anything like that. It all boils down to efficacy and high quality. By reducing the footprint and increasing the volume capacity, we have an extremely high repeat rate of customers."
Face Haus facials have an average price point of $65, and the place offers treatments with quirky, fun names like Spotless Reputation and Keep Glowing, according to its website. The services are provided by licensed aestheticians and instead of private rooms, customers get to lay in chairs that line up one side on the spa. Each location fits between six to eight chairs and services ranges from 30 minutes to an hour.
Mattel Update
El Segundo-based Mattel Inc. announced August 30 a new division dubbed the Global Franchise Management Group. The company said the move aims to unify several key functions, including business development, consumer products, content, digital gaming and live events.
The company is bringing in Janet Hsu to head the division. Hsu currently serves as the Chief Executive of Power Rangers, owned by Century City-based Saban Brands. Saban Brands agreed in May to sell the Power Rangers franchise to Pawtucket, R.I. toymaker Hasbro Inc. for $522 million.
Hsu worked as chief operating officer at Tokyo, Japan-based Sanrio Inc., owners of the Hello Kitty franchise, prior to her stint at Saban Brands.
"As we continue to transform Mattel into a high-performing toy company, we are taking big steps to further strengthen our executive leadership team," Richard Dickson, Mattel's chief operating officer said in a statement. "Janet's proven track record and expertise in expanding established global brands make her ideally suited to help Mattel extend its iconic properties in new and relevant ways," he said. Hsu will directly report to Dickinson. It is unclear when her new role at Mattel starts.
Mattel has had a rough few years with consecutive declining sales, which was further worsened by the bankruptcy of its top retailer Toys 'R' Us Inc. in 2017. The company has also seen top level management changes, including the departure of its Chief Executive Margo Georgiadis in April.
Hsu said in a statement that she is looking forward to her new role.
"Now is an exciting time to create a new content-to-commerce strategy for Mattel," she said. "I look forward to working with Richard and the entire Mattel team to unlock the value of this company's powerful brands and IP."
New Deputies at POLB
The Long Beach Board of Harbor Commissioners named on Aug. 27 Richard Cameron as the Port of Long Beach's new deputy executive director of planning and development, and Noel Hacegaba to the post of deputy executive director of administration and operations. 
Cameron joined the port in 1996 as an environmental specialist and his stints at the port have included working as manager, director and then acting managing director of environmental planning at the port.
Hacegaba joined the Port in 2010, and is responsible for developing and executing business development strategies to drive volume and revenue growth at the port, port officials said. He also leads the port's operations, customer service and security functions as the managing director of commercial operations and chief commercial officer, according to the announcement.
Staff reporter Shwanika Narayan can be reached at snarayan@labusinessjournal.com or (323) 556-8351.
For reprint and licensing requests for this article, CLICK HERE.