4 Advertising Trends to Look Out for in 2019
Custom Content from the Los Angeles Business Journal
Tuesday, October 30, 2018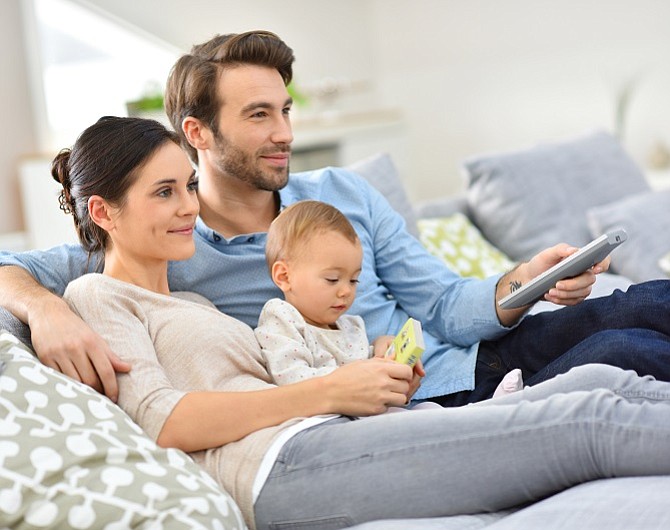 It's been a year of massive change in the advertising industry. And 2019 won't be any exception. In 2018, we watched a shift unfold between advertisers and digital giants like Google and Facebook, as a once ironclad image of reach and scale was steadily tarnished by measurement errors and brand safety scandals. We watched TV join the ranks of digital-only companies in audience-targeting capabilities and affordability. We watched some really, really good ads, and we were reminded (yet again) just how important creativity is for successful ad campaigns. 2018 was a year of big shifts. In 2019, though, we'll start to see the results of the transformation take place. Take a look at what's in store and learn how to put these trends to work for your business.
1) Data-driven advertising (that protects consumer privacy) will be the Big Thing.
In advertising, data is the new black, and it has been for a while. But for new advertisers, small businesses, and even larger organizations without a dedicated marketing department, figuring out what to do with that data to get the best results isn't so black and white. Data-driven solutions have opened the door for precise audience targeting, while also providing the post-campaign insights that marketers need to be smarter about their ad spend on TV and digital.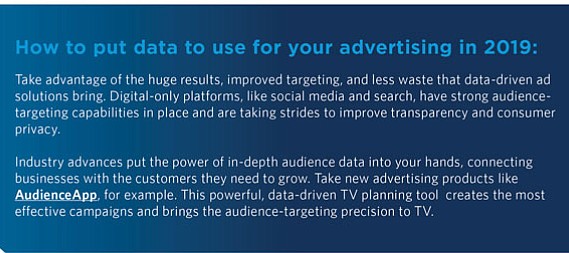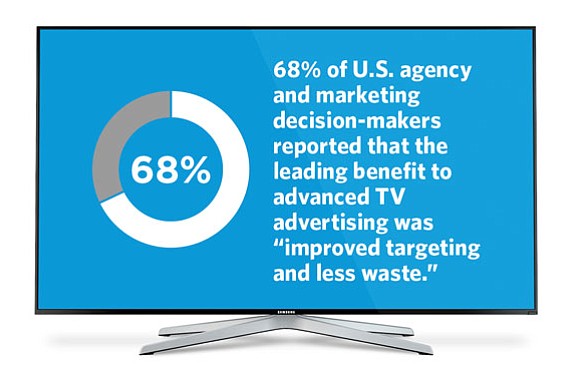 2) Transparency will be a requirement.
All the way back in 2016 (when dinosaurs roamed the earth), the Association of National Advertisers (ANA) named "transparency" the Marketing Word of the Year. It's still as important as ever – and will become even more so in 2019 and beyond. The reevaluation of ad tech companies' impact is what some people have nicknamed "Techlash 2018." Businesses are starting to ask tough questions of the ad tech giants. They're starting to demand a higher level of accountability and transparency. This shift took center stage after the Cambridge Analytica data breach. Brand safety, trust, and transparency in all forms are more essential now than ever before. Total transparency has become the new demand, and advertisers will ask for even more transparency about their metrics and ad spend in 2019.

3) TV will no longer be defined by the large screen in your living room.
The average U.S. household has an average of 2.9 TVs (.9 TVs may or may not become a thing in 2019), and time spent watching live video on TV has increased. But consumers no longer rely on just one device to watch premium video content. Spectrum Reach Sr. Product Marketing Director Scott Eifert said that it's now crucial to rethink what "TV" is. It's not just the screen in our living rooms; it extends well beyond the home: "If you have the right audience data and targeting capabilities backing you, you can reach customers with any creative." Overall video use amounts to nearly six hours per day and includes time spent with a TV set, computer, smartphone, or tablet. Consumers will choose the platform that best suits their needs to view content whenever and wherever they want it.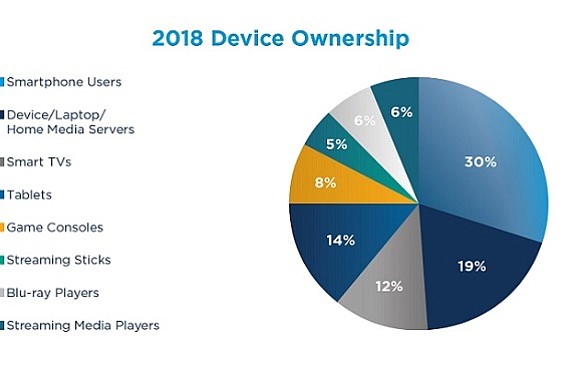 4) Creativity, not conformity, will set successful marketers apart.
It doesn't matter if you're planning your first advertising campaign or if you're a seasoned pro; it's still easy to fall into the trap of thinking consumers want to hear what your business or brand has to say. As the list of advertising options grows, it's never been more important to earn your audience's time and attention. To create content that connects emotionally, entertains, fulfills your customers' needs, and reaches the right people in the right context. A blend of data and creative thinking is likely to be what helps businesses get ahead.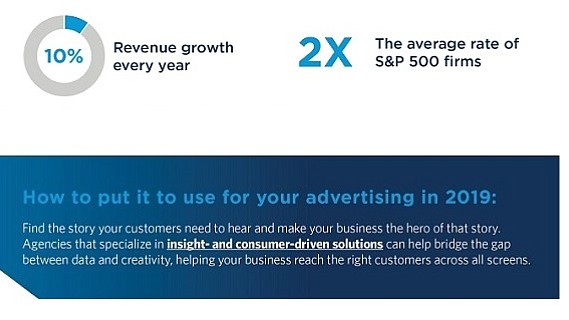 Future-proof your advertising with data-driven advertising products & solutions, affordable TV + multiscreen campaigns, 100% transparent reporting, and creative services grounded in consumer research. Call 1-213-599-6038 or visit SpectrumReach.com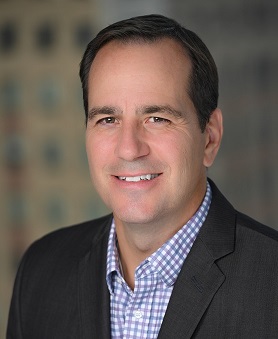 Rhett Milito is the Senior Director of Marketing for Spectrum Reach, the advertising division of Charter Communications. He is a veteran of the media and advertising industries and has extensive experience helping Fortune 500-level companies reach their consumers across all screens and devices. For more information, contact Milito at Rhett.milito@charter.com.
For reprint and licensing requests for this article, CLICK HERE.