Trade Troubles
Trans-Pacific tensions weigh on consumer confidence in L.A. County
Friday, October 26, 2018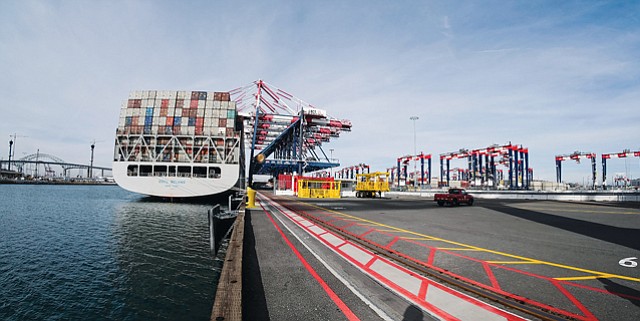 Rising interest rates and trade tensions with China took their toll on L.A. County residents' outlook during the third quarter, sending a local consumer sentiment index down 6 percentage points.
The third quarter consumer sentiment survey of local business conditions from the Lowe Institute of Political Economy at Claremont McKenna College sank to an index reading of 90, reversing a jump during the previous quarter.
"A broad-based decline in consumer sentiment can be traced to rapidly escalating trade tensions with China, which are critical news to our Pacific-trade dependent metropolitan region," Cameron Shelton, survey author, institute director and associate professor of political economy at Claremont McKenna, said in the survey. "The continued tightening by the Federal Reserve has also taken a toll."
President Donald Trump's administration introduced tariffs over the summer on an estimated $200 billion worth of Chinese products imported into the country, starting at 10 percent last month and set to increase to 25 percent on Jan. 1. Those are on top of tariffs on $50 billion worth of other Chinese products introduced earlier this year.
The Chinese government responded with tariffs on up to $60 billion worth of U.S. exports.
Both sides have threatened additional tariffs if they cannot reach a deal over their respective economic practices.
Shelton said these tariffs have been hitting the region's manufacturers that import raw materials or components, as well as the logistics sector that manages the movement of goods and retailers who get finished product for sale from China.
"It's the intermediate goods – imported from China and sold to other businesses, which, in turn, modify them to sell to consumers – that have taken the biggest hit," he said.
Meanwhile, rising interest rates have made consumers less willing to spend on big-ticket items such as cars. The index reading for respondents willing to purchase a car within the next year fell 6.5 points to 85.7, according to the survey.
"This, of course, is hitting car dealerships," Shelton said.
He added that these developments "have overwhelmed the continued good news in the labor market for most of the population."
The county's unemployment rate of 4.6 percent in September was near its lowest level in the last 50 years while a record 5.1 million county residents reported they were working, according to the latest employment survey released Oct. 19 by the state Employment Development Department.
The Lowe Institute Consumer Sentiment Index for the third quarter was taken in late September, just before the latest round of stock market volatility that started at the beginning of this month. The survey tallied the responses from 500 Los Angeles County residents.
The base level index readings of 100 were set when the survey launched in the second quarter of 2015. The index reached a high of 126 in the third quarter of 2016, just before the presidential election and then fell for seven straight quarters before this year's second quarter jump.
For reprint and licensing requests for this article, CLICK HERE.