City National Bank Names Kelly Coffey CEO, Russell Goldsmith to Remain Chairman
Wednesday, October 24, 2018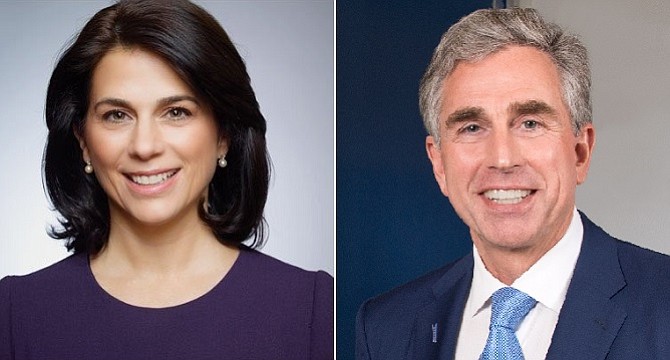 Los Angeles-based City National Bank, which was acquired nearly three years ago by Canada's Royal Bank of Canada, announced that long-time Chief Executive Russell Goldsmith will be succeeded by JPMorgan's Kelly Coffey but that Goldsmith will continue to serve as chairman.
Coffey, who is now the chief executive officer of JPMorgan's U.S. Private Bank, one of the largest private wealth management businesses in the nation, begins her new post on Feb. 1, 2019.
Coffey has led the JPMorgan business since 2015, and is responsible for a team of 3,000 people in 34 communities across the United States.
During a 30-year career at JPMorgan and its predecessor, Morgan Guaranty, Coffey held a series of leadership positions in corporate finance and mergers and acquisitions, equity markets, investment banking and private banking.
Coffey will be City National's fourth CEO in its 65-year history.
Goldsmith, 68, succeeded his father, Bram, who as chairman and chief executive, pushed the Beverly Hills bank to more than $1 billion in assets by the late 1970s, and ensconced the institution's reputation as one of the go-to banks for Hollywood.
Russell Goldsmith joined the company's board of directors in 1978 and was named chairman and chief executive in 1995. Since then, City National has expanded from 16 offices to 72 offices in six states plus Washington, D.C. Its assets have grown from $3 billion in the mid-1990s to nearly $50 billion today.
The bank now employs more than 4,800 and oversees client investment assets of $67 billion. It has been profitable in every quarter for 25 consecutive years – even during the Great Recession when many banks went out of business or were bought out by healthier ones.
City National's roots extend to 1954, when a small group of Beverly Hills entrepreneurs, led by businessman and Columbia Pictures board member Al Hart, saw a need for bank catering to the entertainment community and small and medium-sized businesses. The bank is coming up on its 65th anniversary in January.
Bram Goldsmith, who passed away at 93 years old on Feb. 28, 2016, succeeded Hart in 1975.
In addition to becoming a member of its board of directors, Coffey will chair both the bank's strategy and planning committee and its executive committee. Among those who will report to Coffey are the bank's president, Chris Warmuth, and its chief financial officer, Chris Carey.
Coffey, who was named by trade publication American Banker as one of the top 15 most-powerful women bankers in America, also will join the senior management committee of RBC Wealth Management-U.S. and the business executive committee of RBC's Intermediate Holding Company in the United States.
"I couldn't be more proud of my time at JPMorgan or more excited about my future at City National," said Coffey in a statement.
Russell Goldsmith will continue to play an active leadership role at City National, both as chairman and as a member of the bank's strategy and planning and executive committees.
In addition to his role as chairman of City National, Goldsmith will remain chairman of RBC Wealth Management-U.S. and will continue to chair the executive committee of RBC's Intermediate Holding Company in the United States. Coffey will report to Goldsmith.

Michael Armstrong, the chief executive of RBC Wealth Management-U.S., continues to report to Goldsmith.
Finance reporter Pat Maio can be reached at pmaio@labusinessjournal.com or (323) 556-8329.
For reprint and licensing requests for this article, CLICK HERE.