USC Health Campus Hotel Snags $49M Loan
Boyle Heights project gets backing from Canyon Partners Real Estate
Friday, October 19, 2018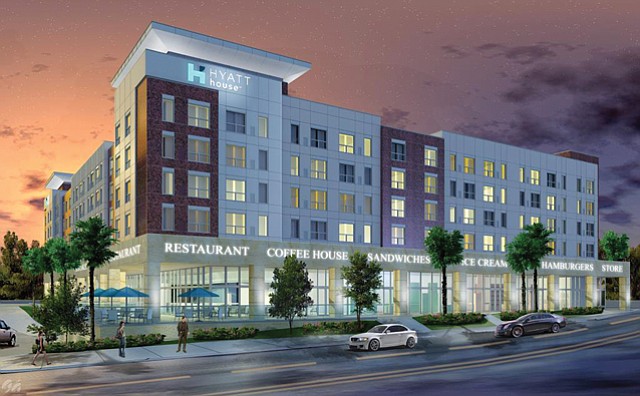 By CIARAN McEvoy
Century City-based real estate investment firm Canyon Partners Real Estate provided a $49-million loan to finance the construction of the five-story, 200-room Hyatt House hotel located on the Health Sciences Campus of USC at 1601 Alcazar St., in Boyle Heights.
The hotel will provide approximately 18,000 square feet of conference center space as well as 14,000 square feet of restaurant and retail space. A fitness center, pool and spa, valet laundry service and lobby bar will be some of the hotel's features, according to a statement from Canyon Partners.
The project's developer is an affiliate of the Irvine-based Mayer Corp., which recently renovated the 517-room Hyatt Regency Huntington Beach Resort and Spa, and the 437-room Hilton Waterfront hotel. Both hotels are located in Huntington Beach.
The project at USC joins a trend.
Los Angeles County added more than 4,300 new hotel rooms last year, the most in California, and also finished last year with 33,500 hotel rooms on the drawing board, according to Irvine-based Atlas Hospitality Group's California Hotel Development Survey for 2017.
Los Angeles' average daily hotel room rates is expected continue to rise next year to $186.54, a 2.7 percent jump that would just outpace the nation's 2.6 percent projected average increase, according to downtown-based brokerage CBRE Group Inc.
Law Firms Shrink Space
Nearly one-third of law firms in Los Angeles County that recently signed new office space leases have opted to decrease their footprint despite a surge in the area's lawyer population. The increase was above average in the legal services sector.
Los Angeles County saw about 711,500 square feet of law firm space accounted for in transactions from the third quarter of 2017 through the second quarter of 2018, according to a study from CBRE Group Inc.
Law firms seeking more room snapped up 16.9 percent of the space, 47 percent kept the same amount, and 5 percent were new entrants in the market. About 31 percent of law firms took a smaller office footprint.
Downtown was home to 55 percent of the county's overall law firm office leasing transactions.
"Similar to national trends, Los Angeles's law firms are incorporating new ways of working in order to become more modern and efficient in their use of space, which explains the 31 percent of contractions," said Stephen Bay, CBRE vice chairman, in a statement.
The county's lawyer population grew 11.9 percent from 2015 to 2017, nearly four times the national average of 3 percent. Only Atlanta's lawyer population grew faster during that time.
The legal services sector as a whole in Los Angeles County grew 3.6 percent, above the national average of 1.5 percent, the report said.
The legal sector's strong numbers in the county are "closely related to the incredible growth in our tech, media and entertainment industries and all the ancillary businesses associated with that," said Kevin Bender, an executive vice president at CBRE, in a statement.
Kosmont Hires Public-Sector Veteran
Kosmont Realty Corp., of Manhattan Beach, has hired Julio Fuentes, whose work in the public sector includes stints with various cities inside and outside of Los Angeles County, as one of its managing directors.
Fuentes comes to the firm with 35 years of public-sector experience and an extensive background in financial management, mixed-use development, downtown revitalization and capital improvement planning and implementation.
He served as city manager in Azusa during the late 1980s, then was Pomona's city administrator from 1989 to 1992. He served as Alhambra's city manager for two decades. Fuentes was city manager of the City of Santa Clara when Levi's Stadium – the new home of the San Francisco 49ers pro football team – was built.
During his tenure in the public sector, Fuentes represented cities in negotiations resulting in office, retail, hotel and other real estate developments.
For reprint and licensing requests for this article, CLICK HERE.