Rockers Steaming Over Streaming
ENTERTAINMENT: Some claim labels short on royalties
Friday, October 19, 2018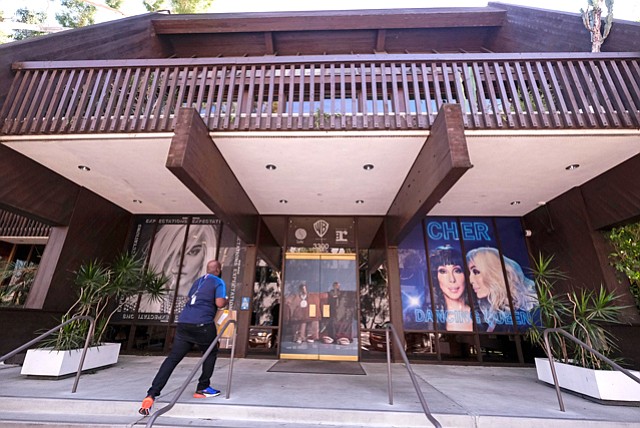 Music streaming money has grown into the billions of dollars, big enough to prompt artists to start suing record labels over their slice of the pie.
A proposed class-action lawsuit filed this month in Los Angeles County Superior Court is front and center on the trend. The suit contends Warner Music Group Corp. breached its contracts with artists by underpaying them royalties on international streams, diverting portions of those payments to Warner's international subsidiaries.
Leonard Williams, former lead singer of 1970s funk band Tower of Power, brought the case on behalf of the thousands of artists with Warner contracts – deals that preceded the advent of streaming, which has reshaped the music industry since it first became a factor in the early 2000s.
Williams, for example, signed a contract with Burbank-based Warner Bros. Records in 1974, a pact that specified how the musician and his record label would split agreed-upon royalty payments that came largely from record sales and radio play back then.
His agreement said nothing about streaming, much less tracking the international plays of Tower of Power songs on various streaming platforms, collecting royalty payments from those plays or divvying up payments from offshore markets.
But Williams and his lawyer, veteran Beverly Hills-based attorney Neville Johnson, claim the 44-year-old stipulations apply to the technology that drives the business today, as streaming platforms supplant record stores and international markets grow in importance.
Williams' lawsuit follows an identical complaint made in September against Sony Music Entertainment Inc. in New York federal court by the heirs of early 1960s songwriter Rick Nelson. Johnson also filed that lawsuit.
"I can see the timing and the challenge of the lawsuits," said Gigi Louisa Johnson, a music business professor at UCLA.
The challenge, Gigi Louisa Johnson explained, is the understanding that both artists and record labels now have for the role and value of international subsidiaries today.
She said the timing is that older or deceased artists and their heirs want to cash in on the first significant influx of revenue from recorded music in years.
Streaming has been the key to three straight years of revenue increases for recorded music globally, an upturn that followed 15 straight years of declines, according to the London-based International Federation of the Phonographic Industry.
Streaming accounted for 54 percent – or $9.3 billion – of all global recorded music revenue in 2017, the first year it made up the majority of industry revenues.
The industry, meanwhile, has recently seen a consolidation trend, and three labels – Warner, Sony, and Universal Music Group Inc. – now have a 70 percent share of the global recorded music market, according to the trade group's annual report.
Warner, which has an 18 percent global market share, owns high-profile labels including Atlantic, Reprise and Sire as well as the flagship Warner Bros.
The consolidation has perhaps made labels fatter litigation targets, as the Warner case alone involves "hundreds of millions of dollars" of contested payments, Johnson said.
The Warner and Sony cases – both companies declined comment – each center on the company's owning a subsidiary in many countries.
When a music consumer in Canada, for example, streams Tower of Power's "Midnight Girl," the streaming platform should give a royalty payment to Warner, which then should give its cut to Williams.
But the lawsuit contends Warner "assesses an intercompany charge" in which it "impermissibly takes up to 40 percent off the top of the international revenue earned from streaming sales," and routes that money to Warner Music Canada.
Williams' contention has perhaps exposed a flaw in the royalty streaming payment system, said James Sammataro, who represents artists and labels at the Stroock & Stroock & Lavan law firm.
However, a judge might not let Williams proceed with a class action, Sammataro said, because different Warner artists might have different contract terms, and not all countries have a Warner subsidiary.
Sammataro also noted subsidiaries, "often do the work themselves in collecting money from certain markets," including extracting information from international streaming giants, such as Spotify Technology as well as smaller, local platforms.
"A good subsidiary is not just collecting money but adding value to their parent," Sammataro said, which is an arrangement that might not have been contemplated in Williams' and other artists contracts.

Johnson, who filed Williams' case with lawyers Paul Kiesel and Clifford Pearson, declined to say whether he might also sue Universal or smaller labels.
Johnson has carved out a large part of his practice identifying new entertainment revenue sources and then filing lawsuits that say artists do not get their fair share of that new money pot.

He filed a class action against every Hollywood studio in 2013 for not providing home video royalty payments to artists. The studios largely did not include such clauses for actors, directors and writers who signed contracts before 1981. Johnson settled those cases individually with studios. For example, Universal Pictures paid out $26 million in its settlement, which was reached in 2015.
For reprint and licensing requests for this article, CLICK HERE.