Oak View Adds Englander, Awaits NHL Decision
City councilmember comes aboard as facilities operator awaits hockey vote
Friday, October 19, 2018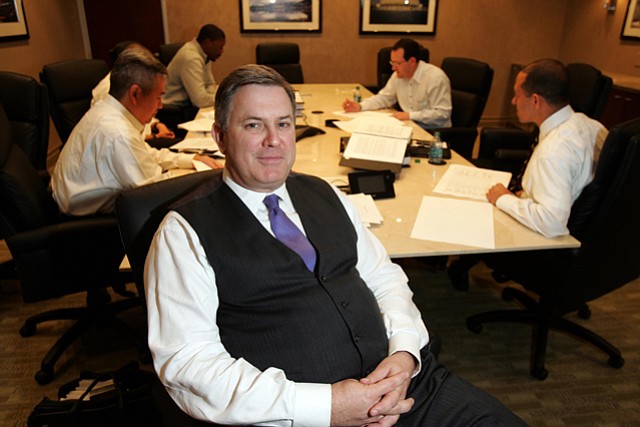 Westwood sports and entertainment facilities company Oak View Group plucked a member of the Los Angeles City Council to be its liaison with local governments on venue construction and booking.
OVG, the 3-year-old company started by Tim Leiweke and Irving Azoff, announced Oct. 11 that San Fernando Valley lawmaker Mitchell Englander will leave the City Council at the end of the year and become OVG's executive vice president of government affairs.
"Mitch is a seasoned veteran that will help and lead OVG's thinking on creative public private partnerships," Francesca Bodie, president of business development at OVG, wrote in an email to the Business Journal.
Englander comes on board two weeks after the Seattle City Council approved Oak View's $700-million plan to demolish the Key Arena and build a new stadium by 2020 suitable for professional hockey.
The National Hockey League Board of Governors is scheduled to vote in December on whether to add a Seattle team.
OVG has more than 20 booking or managing accounts with venues, Bodie said.
For example, Omaha, Neb.'s Metropolitan Entertainment & Convention Authority last month rewarded OVG a contract to be the "preferred booking agent" for the CHI Health Center.
The five-year contract pays $250,000 annually, and OVG will also split event profits. The company gets an additional 25 percent cut of any sponsorship agreements.
An Omaha World-Herald story reported the convention authority agreed to these terms because it expects Oak View to deliver high-profile concert headliners, lucrative sponsorships and more premium seat sales.
Leiweke, a former president of Anschutz Entertainment Group Inc., has been the public face of OVG during the company's three-year history. Azoff, meanwhile, has continued with non-OVG projects, namely his music management company, Azoff Co.
Azoff announced Oct. 8 that he bought out Madison Square Garden Co.'s 50 percent stake in Azoff Co. for $125 million..
Live from D.C.
The Federal Trade Commission has responded to calls to take enforcement action against Live Nation Entertainment Inc. subsidiary Ticketmaster with a one-day workshop.
The FTC announced earlier this month that it will convene an Online Event Ticket Workshop on March 27 in Washington, D.C., to "discuss problematic practices in the online event ticket marketplace."
The workshop comes on the heels of a report by the Government Accountability Office, Congress's auditing arm, in April that found Beverly Hills-based Live Nation has service fees that routinely exceed 30 percent of a ticket's face value.
Concerns aired in the GAO report were given color and a fresh allegation last month when the Toronto Star published an article in which reporters posed as ticket scalpers. The Star reported Live Nation encourages scalping because it can collect fees for both the primary and secondary ticket sale.
It is not clear whether the FTC will act beyond its workshop.

The agency last took action against Ticketmaster in 2010, the year Live Nation acquired the company, requiring Ticketmaster to disclose when it was sending consumers to secondary ticketing website, TicketsNow.
Live Nation released a public statement after the FTC announcement, saying "Ticketmaster welcomes and looks forward to participating in the FTC workshop on online ticketing in March 2019. To be clear, this is an industry wide workshop – not a probe. We encourage other ticketing companies to take part."
Live Nation controls 80 percent of the domestic ticketing market, according to the latest data from trade publication Pollstar.
The FTC did not confirm Live Nation's participation.
Soccer Stadium Turns to Rap
The 30 owners behind the 5-month old Banc of California Stadium Entertainment are trying to figure out what will bring people to the stadium during the approximately 345 days a year there isn't a Los Angeles Football Club match.
The stadium, a division of LAFC Sports, has largely taken a pass on non-Major League Soccer events for 2018, but it made a splashy announcement last week – high-profile rap festival, Rolling Loud, will come to the stadium Dec. 14 and 15.
The festival is headlined by rappers Cardi B and Post Malone, and general admissions tickets are $199 plus a $30 fee.
Live Nation subsidiary Front Gate Ticketing Solutions is doing ticketing for the event, and Beverly Hills-based LiveXLive Media Inc. will stream the event online.
Staff reporter Matthew Blake can be reached at mblake@labusinessjournal.com or at (323) 556-8332.
For reprint and licensing requests for this article, CLICK HERE.