New 'Experiential' Jordan Brand Retail Shop Opens
Downtown location includes rooftop basketball court and recovery lounge
Friday, October 19, 2018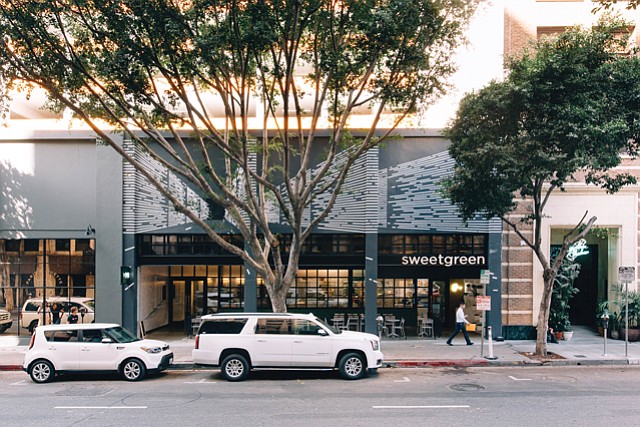 Saturday marked the opening of Jordan Brand's new retail store in downtown.
Jordan Brand, a Nike Inc. subsidiary named after basketball legend Michael Jordan, now occupies all three levels of the historic Schaber's Cafeteria building at 620 S. Broadway, a structure dating back to the 1920s. The outside looks like a well-preserved almost century-old building, but the inside is something squarely fit for 21st century retail.
The first level is focused on retail sales with a majority of the store's apparel and shoe products laid out strategically, showcasing the latest Air Jordan 33 shoe. The second level is the store's experiential floor, including a flight lab, shoe assessments, training area and a recovery lounge. The third level comes equipped with a rooftop basketball court for folks who'd like to get in a dribble and maybe shoot some hoops while shopping at the store.
"The sneaker culture in Los Angeles makes it a prime market to launch this type of storefront," a spokeswoman for the brand said.
Jordan Brand has another store, which opened in 2015, called Flight 23 in Santa Monica, but the downtown storefront is the "first brand experience" in Los Angeles, the spokeswoman said.
The retail space for the footwear and apparel brand encompasses 25,000 square feet.
More and more retailers are investing in experiential ventures these days. What that means, in practical terms, is most retailers offer something more than a place to shop for products. The experiential model is seen as a way to bring in more foot traffic to brick-and -mortar stores. Hollywood-based Fred Segal Inc. recently told the Business Journal it hosts events, including live music, pets and cocktails as experiential offerings.
Lazy Acres
Lazy Acres Market Inc., a grocer that specializes in health foods, launched its second supermarket in Los Angeles County last week. The Santa Barbara-based company's new supermarket is in Hermosa Beach and follows the launch of its first store in the area, in Long Beach, earlier this year.
Lazy Acres is a subsidiary of Carson-based Bristol Farms Inc.
The experiential trend in retail extends to supermarkets, as Lazy Acres demonstrates with its promise "to deliver a sensory shopping experience like no other." For example, the grocer plans to have a live beehive, replete with a beekeeper, while a fully-equipped instruction kitchen will host regular classes and special chef appearances, among other in-store events at the new location.
"Lazy Acres is proud to become an active part of the vibrant South Bay community and we are confident that local residents will find the store to be a trusted source for all that is organic, fresh and delicious… and when possible, locally sourced," David Schaefer, the store's director, said in a statement.
Lazy Acres popped up at several local events before opening the Hermosa Beach store, including Manhattan Beach Wine Auction, Hermosa Friends of the Park Movies at the Beach and numerous PTA and other events, the company said.
"We have been inspired meeting so many local residents through our participation in an abundance of community events these past few months. We look forward to building close relationships with our customers in the months and years ahead with our promise to go out of the way to create a truly unique and rewarding shopping experience," Schaefer said.
Sweetgreen Pilot Program in L.A.
Culver City-based Sweetgreen, a fast-casual restaurant that says it sources the fixings for its popular salads locally, last month rolled out Outpost, a new channel for revenue.
Sweetgreen's Outpost is a pilot program for the L.A. market. It brings the online order and pick-up experience outside of Sweetgreen's brick-and-mortars and into local businesses and corporate headquarters throughout Los Angeles, the company said. Sweetgreen offers the service to businesses for food orders with no delivery charge.
The company counts 11 locations in Los Angeles and has signed up Outpost clients, including Los Angeles locations for New York-based WeWork Cos. Inc., Nike Inc.'s office in Culver City and online meditation provider Headspace Inc.'s Santa Monica headquarters, among others.
Sweetgreen said the launch of this service has given it access to an estimated 3,000 additional Los Angeles-based consumers. The company expects to have more than 200 Outpost locations by the end of 2019.
Staff reporter Shwanika Narayan can be reached at snarayan@labusinessjournal.com or (323) 556-8351.
For reprint and licensing requests for this article, CLICK HERE.