Defense Dollars
Latest report pegs spending in L.A. County sector at $6.2 billion annually
Friday, October 19, 2018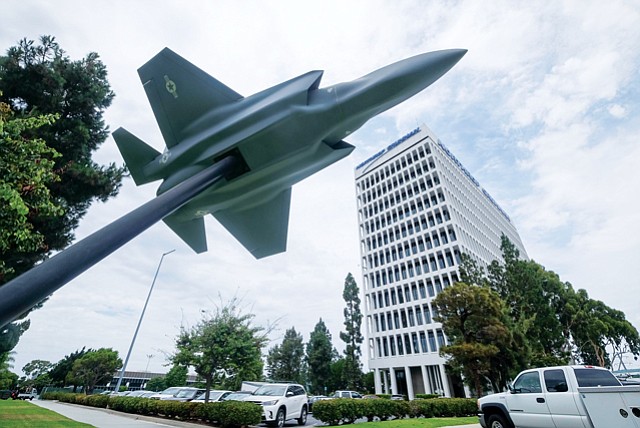 The defense industry remains much more than a legacy in Los Angeles County, which remains a top market for spending by the federal government despite decades of cutbacks and the lack of a major aerospace company with headquarters here.
L.A. County ranked third in the nation in attracting contract dollars from the U.S. Defense Department, according to a recently released report on 2016 spending, the most recent data available from the agency.
The report tracks defense spending by state and county, and was released last month from the agency's Office of Economic Adjustment. It showed L.A. County received $6.2 billion in defense contracts in the fiscal year ending in September 2016.
Only San Diego County, home to numerous military installations, and Fairfax County, Va., near the Pentagon, ranked higher.
"L.A. County is third on the list without the large bases of other counties, aside from our very important Los Angeles Air Force Base," Judy Kruger, director of strategic initiatives and cluster development for the Los Angeles County Economic Development Corp., said in an email. "That means LA's No. 3 rank is largely attributed to R&D and our aerospace industry. It also shows that while L.A. County is experiencing a boom in space commercialization including satellites and rockets, defense contracts are still important to jobs and innovation."
Kruger, who tracks the local aerospace industry, said she expects the $6.2-billion figure for Los Angeles County has increased considerably since 2016 as the Trump administration has hiked military spending.
"All five of the top national DOD contractors have locations in the region, and some of those have a significant presence in research, manufacturing, and employment (here)."
A key to the defense contract total in Los Angeles County is the Los Angeles Air Force Base in El Segundo, which distributes Air Force contracts for military planes, space launch vehicles and related parts and technologies. The base issued a report in 2016 that calculated it had a $1.8-billion economic impact on the South Bay region.
The base's presence in the South Bay/Silicon Beach area has kept major defense contractor operations going in the region decades after the toll of post-Cold War cutbacks. Among them are Northrop Grumman Corp., Boeing Co. and General Dynamics Corp. Aerospace Corp., one of the 10 top defense contractors in the state, according to the report, with $743 million in defense spending in 2016, is headquartered next to the base.
Another part of the county that has attracted several defense contractors – including Northrop, Lockheed Martin Corp. and General Atomics Corp. – is the Antelope Valley. That cluster started during World War II with Lockheed's (now part of Lockheed Martin) Skunk Works secret research facility near Palmdale and Edwards Air Force Base, which still serves as a major military air technologies testing facility.
The list of the 10 biggest defense contractors in California contains a couple of non-aerospace firms, including Woodland Hills-based health care provider Health Net Inc.
The report's tabulations on military personnel show Los Angeles County trailed San Diego County in both number of people and the dollars they spent in 2016. San Diego County is home to major military installations, such as the U.S. Marine Corp's Camp Pendleton, and U.S. Navy bases at Miramar, Coronado and Imperial Beach. San Diego is home to 123,000 active-duty military personnel overall.
L.A. County's largest military facility is the Los Angeles Air Force Base with about 6,000 personnel.
For reprint and licensing requests for this article, CLICK HERE.