Creative Control
Tweaks to office trend include accommodations for some peace, quiet
Friday, October 19, 2018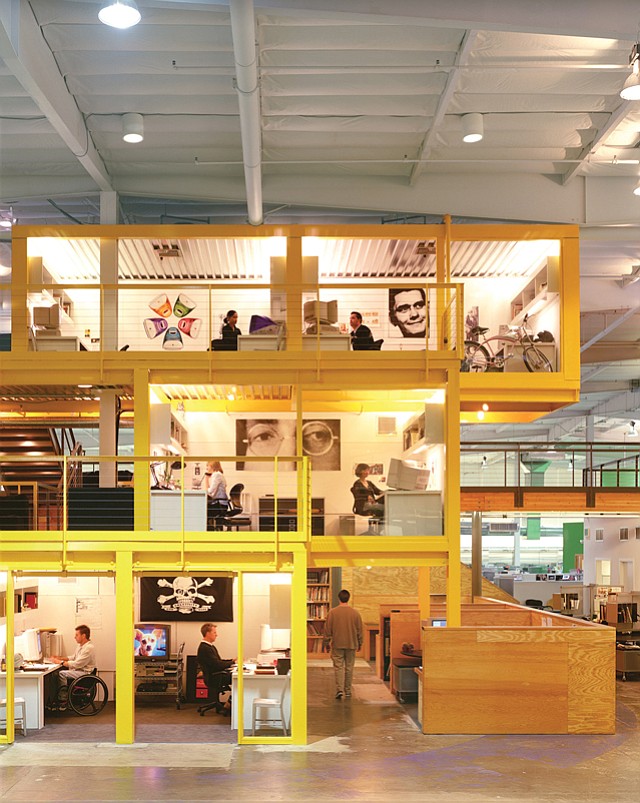 TBWA Chiat/Day Inc.'s Playa Vista offices may or may not have been the first creative office space in Los Angeles when they opened 20 years ago.
They're still making headlines in any case.
The first local splash came in 1998 when the ad agency debuted an open floor plan. It was an early version of what's become known in the commercial real estate trade as creative office space – no cubicles or private offices to get in the way of a free flow of communication and ideas.
A write up on AOL.com online earlier this year still celebrated it as a "Wild Workspace."
The 120,000-square-foot office, designed by Clive Wilkinson Architects in Culver City, opened with a basketball court, billboards and award-winning "nests" designed and manufactured by Steelcase Inc., along with a range of diverse structures used as meeting spaces, including tents for project rooms. The office reflected the casual, communal fishbowl milieu thought to have emerged in Silicon Valley tech startups beginning in the 1980s.
TBWA Chiat/Day said it hasn't changed its open floor plan, but the concept of creative space is getting a few tweaks as it matures. Local office space providers and designers say being creative sometimes requires some peace and quiet – and that sometimes calls for a respite from details of your colleague's visit to the doctor or latest Tinder date.
Adjustments
Los Angeles businesses report they are adjusting to new demands.
Veteran commercial real estate broker Ian Strano, executive vice president of NAI Capital Inc., said creative space, once considered a passing trend, is now here to stay on a global scale.
"Creative office space … is the most important aesthetic of our time," Strano said. "When it started in the late 1980s, creative space was a boutique market. Today's word is, if you don't have creative space, your building is not going to lease."
Strano said a creative space vibe has become essential for recruiting talent to businesses not commonly considered creative, including banking and law.
"(Job candidates) are looking for environment as much as what the salary is, an environment that is more people-friendly, as opposed to chopped up and divided," Strano said. "It's become a lifestyle need."
Too close for comfort
A flurry of 2018 news stories in publications including Forbes and The Washington Post report research blaming open offices, reportedly now standard in 70 percent of U.S. workspaces, for decreased productivity, erosion of morale and even the spread of disease.
Prev Next
For reprint and licensing requests for this article, CLICK HERE.