Twin Ports, Two Records
SHIPPING: Gains come amid global consolidation trend
Friday, October 12, 2018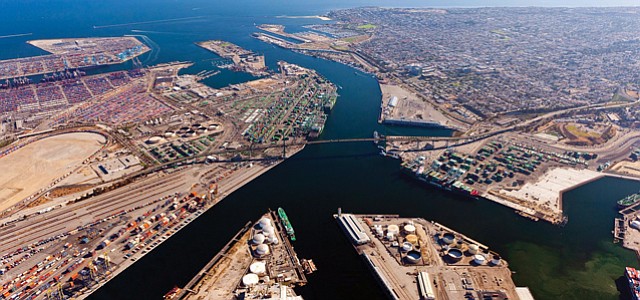 The maritime shipping industry has seen a rising wave of consolidation in the last two years, and the effects are still washing over the ports of Los Angeles and Long Beach.
Mergers, acquisitions and shipping alliances have all contributed to supply chain reshuffling, a rebalancing of resources such as truck chassis, and terminals changing hands, among other effects.
None of the changes stopped either the Los Angeles or Long Beach facilities from setting respective records for cargo movement in 2017, re-emphasizing their respective titles as the busiest and second-busiest seaports in the United States.
The 110-year-old Port of Los Angeles set its new mark by moving a total of 9.3 million 20-foot-equivalent units (TEUs), up from 8.8 million containers in 2016, and its second-straight record year.
The port of Long Beach handled 7.5 million containers, beating a record of 7.3 million set in 2007.
The gains were powered largely by the top 25 shipping lines that call on the local ports, ranked by container volume for this week's Business Journal list. The biggest lines combined for 11.1 million containers spread over both ports, up 2.8 percent from 10.8 million in 2016. Seventeen saw increases last year, while 7 were down, and one new entry didn't have a 2016 total for comparison.
No. 1 on this list is China-based China Ocean Shipping Co., up from the No. 3 spot last year, with total cargo movement of 1.1 million containers, a 30 percent increase compared to last year. The gain for the line, also known as Cosco, came prior to its acquisition of Hong Kong-based Orient Overseas International Ltd., a $6.3-billion deal that closed in July. Orient Overseas Container Line is No. 4 on this year's list, and its volume of cargo movement locally is tallied separately from parent OOIL.
The announcement of that deal wasn't without hiccups.
The initial terms of the acquisition included a 40-year terminal lease at the Port of Long Beach, set to expire in 2052. U.S. regulators raised concerns about the change in terminal ownership if the deal went through.
Cosco agreed to a divestiture of the terminal in July, keeping the deal on track amid the concerns from the Committee on Foreign Investment in the United States.
"As part of the acquisition, Cosco Shipping agreed to put the Long Beach terminal leased by OOCL into a trusteeship so that the rights to operate that terminal can be dealt to a third party," said Mario Cordero, executive director at the Port of Long Beach. "That terminal – Long Beach Container Terminal – is still open and operating."
For reprint and licensing requests for this article, CLICK HERE.
Prev Next