Podcast Hub: Mixed Bag in Flux
MEDIA: Some pullbacks amid revenue growth
Friday, October 12, 2018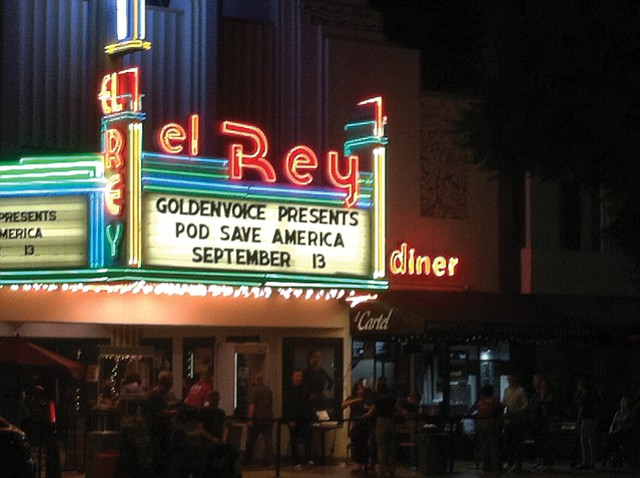 Podcast networks – both upstart and established – are seeking new footholds in a shifting audio content market that increasingly counts Los Angeles as a hub.
It's a mixed bag, to be sure, and the rapid expansion of the category in recent years has been punctuated by some recent setbacks.
But the tumult isn't keeping away new entrants – including some surprise players such as WME holding company and media conglomerate Endeavor, based in Beverly Hills.
Endeavor Audio launched in September and will be supervised by General Manager Moses Soyoola. Planned offerings include a crime drama series from "Law & Order" producer Dick Wolf, and podcasts from clients of WME, also an Endeavor unit.
Endeavor Audio also has a deal with Woodland Hills-based Cutler Media, which operates the Parcast Network, a producer of true-crime podcasts that draw more than 9 million monthly downloads, according to Cutler Media.
Financial data is hard to come by on the various operations, many of which are units of larger outfits, while others tend to be smaller and mostly privately held. Most offer download counts as a measuring stick of performance. E.W. Scripps Co.'s podcast advertising and production outfit Midroll Media cites a range of $18 to $50 per 1,000 downloads as a benchmark – which would put revenue for the Parcast Network, for example, between $162,000 and $450,000 per month in estimated ad revenue.
It all adds up to a growing market, overall. Ad revenue for the U.S. podcast market is expected to reach $402 million this year, according to PricewaterhouseCoopers Partner David Silverman, a 28 percent increase from $314 million in 2017.
Brennan Libbey, partner at consulting and investment banking firm Livingstone Partners and manager of its Manhattan Beach office, said the upward trend
has been consistent and would likely continue.
"Podcasting is an emerging, high-growth area with ad revenues growing mid- to high-80 percent year-over-year," he said.
"Host-read ads"
The basic source of revenue is ads embedded into podcasts. A statement from Endeavor said the plan with Parcast is to "expand into different forms of revenue beyond host-read ads." That could include live events, seasonal content, and other would-be revenue streams – all methods used by most other podcast networks.
Music festival South by Southwest, for example, added a stage for live podcast performances during its March festival while "Pod Save America" offers various branded T-shirts and apparel costing between $18 and $25. The true-crime comedy "My Favorite Murder" podcast, meanwhile, boasts 15 sold-out live shows from Oct. 7 to Nov. 10. The typical tickets to a live podcast show ranges from $25 to $125.
For reprint and licensing requests for this article, CLICK HERE.
Prev Next