Podcast Hub: Mixed Bag in Flux
MEDIA: Some pullbacks amid revenue growth
Friday, October 12, 2018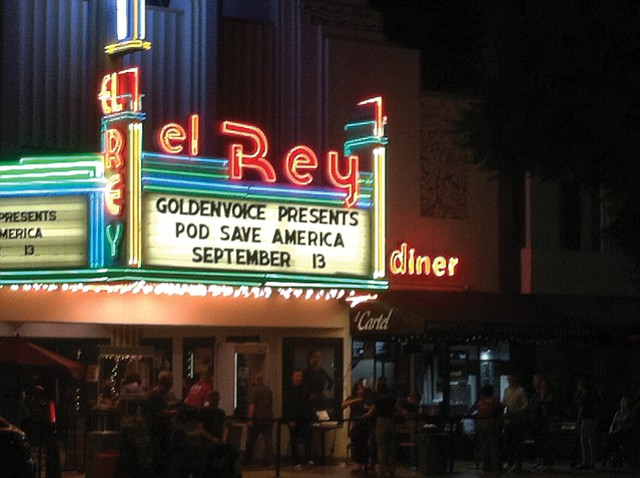 Podcast networks – both upstart and established – are seeking new footholds in a shifting audio content market that increasingly counts Los Angeles as a hub.
It's a mixed bag, to be sure, and the rapid expansion of the category in recent years has been punctuated by some recent setbacks.
But the tumult isn't keeping away new entrants – including some surprise players such as WME holding company and media conglomerate Endeavor, based in Beverly Hills.
Endeavor Audio launched in September and will be supervised by General Manager Moses Soyoola. Planned offerings include a crime drama series from "Law & Order" producer Dick Wolf, and podcasts from clients of WME, also an Endeavor unit.
Endeavor Audio also has a deal with Woodland Hills-based Cutler Media, which operates the Parcast Network, a producer of true-crime podcasts that draw more than 9 million monthly downloads, according to Cutler Media.
Financial data is hard to come by on the various operations, many of which are units of larger outfits, while others tend to be smaller and mostly privately held. Most offer download counts as a measuring stick of performance. E.W. Scripps Co.'s podcast advertising and production outfit Midroll Media cites a range of $18 to $50 per 1,000 downloads as a benchmark – which would put revenue for the Parcast Network, for example, between $162,000 and $450,000 per month in estimated ad revenue.
It all adds up to a growing market, overall. Ad revenue for the U.S. podcast market is expected to reach $402 million this year, according to PricewaterhouseCoopers Partner David Silverman, a 28 percent increase from $314 million in 2017.
Brennan Libbey, partner at consulting and investment banking firm Livingstone Partners and manager of its Manhattan Beach office, said the upward trend
has been consistent and would likely continue.
"Podcasting is an emerging, high-growth area with ad revenues growing mid- to high-80 percent year-over-year," he said.
"Host-read ads"
The basic source of revenue is ads embedded into podcasts. A statement from Endeavor said the plan with Parcast is to "expand into different forms of revenue beyond host-read ads." That could include live events, seasonal content, and other would-be revenue streams – all methods used by most other podcast networks.
Music festival South by Southwest, for example, added a stage for live podcast performances during its March festival while "Pod Save America" offers various branded T-shirts and apparel costing between $18 and $25. The true-crime comedy "My Favorite Murder" podcast, meanwhile, boasts 15 sold-out live shows from Oct. 7 to Nov. 10. The typical tickets to a live podcast show ranges from $25 to $125.
Buzzfeed backs off
Not everyone is pushing forward – some media outlets have decided to axe or severely scale back their audio offerings. New York-based Buzzfeed Inc. News and Programming Vice President Shani Hilton announced in September that Buzzfeed News would dramatically reduce its podcast division, which was run primarily out of the company's Hollywood office.
Washington, D.C.-based Slate Group's podcast division Panoply – an outgrowth of one of the longest-established digital media brands – recently made a similar move.
Local hotbed
The podcast industry took off roughly a decade ago and is increasingly finding a foothold in Los Angeles, partially because of the wealth of media and entertainment talent here.
High-profile players include Beverly Hills-based Crooked Media Inc., which produces the "Pod Save America" political broadcast that averages more than 1.5 million listeners per episode.
Crooked Media's offerings and talent have grown quickly since a band of former Obama administration staffers started the company in 2017. "Pod Save America" has been downloaded more than 175 million times to date, according to the company, which signed a deal for an undisclosed sum with Home Box Office Inc. (HBO) to create a television adaptation with a debut slated for Oct. 12, as of press time.
Independent podcast network and production house Feral Audio was a prominent player from its inception in 2012, but stalking and abuse allegations leveled against founder Dustin Marshall in December 2017, forced the network to shut down. Feral had produced episodes for "My Favorite Murder," a true-crime podcast created and hosted by Karen Kilgariff and Georgia Hardstark, native Angelenos who have helped popularize the podcast format via informal criminology discourse and live shows, according to Vulture.
Kilgarrif and Hardstark plan to turn their estimated 19 million monthly listeners into a new network of their own, tentatively called Exactly Right Media. The project is backed by Midroll Media and its subsidiary Stitcher Radio.
Midroll, based in Hollywood, was founded in 2013 and has run advertising for several shows on Earwolf Media, another Hollywood-based podcast network focused on comedy shows, founded 2010.
Media shifts
Traditional print and digital media companies are still working to see whether podcasting is a venture worth pursuing.
An email from Buzzfeed's Hilton to employees attributed the company's decision to downsize its podcast department to a search for an approach based on its own expertise.
"We've struggled to find our place in a difficult environment for podcasts," Hilton said in the email. "We've decided to move to a production model that is more like TV – that is, treating shows as individual projects, with teams brought on as needed."
Meanwhile, New York-based Slate Group podcast network Panoply Media will dissolve its entire production unit. Panoply Chief Executive Brendan Monaghan said in a statement that instead of creating new content, it will "focus solely on our growing podcast hosting and ad services business," which it calls Megaphone.
Endeavor Audio's Soyoola said podcasts networks' ad formats will change and become more lucrative as audiences grow.
Advertisers are "paying a high price … for these platforms, but that high price comes with a high value," Soyoola said. "It's such an intimate value; you're right in people's ears, and the ads are coming from a trusted source."
Forecast
Audience growth has been strong, according to Washington, D.C.-based Pew Research Center, which found that 26 percent of Americans reported listening to a podcast in the last month, more than triple the 9 percent reported in 2008.
The flip side shows room for growth: New Jersey-based Edison Research estimates 56 percent of Americans still aren't familiar with podcasts.
Another potential edge for podcasts is the rise of the smart speaker, which offers podcast streaming capabilities.
Edison estimates 18 percent of Americans – roughly 51 million people – live in homes with smart speakers, such as Amazon.com Inc.'s Echo, Alphabet Inc.'s Google Home, or Santa Barbara-based Sonos Inc.'s Sonos One.
For reprint and licensing requests for this article, CLICK HERE.