Synergies for Saban?
ENTERTAINMENT: Buys into end-to-end Hollywood play
Friday, October 5, 2018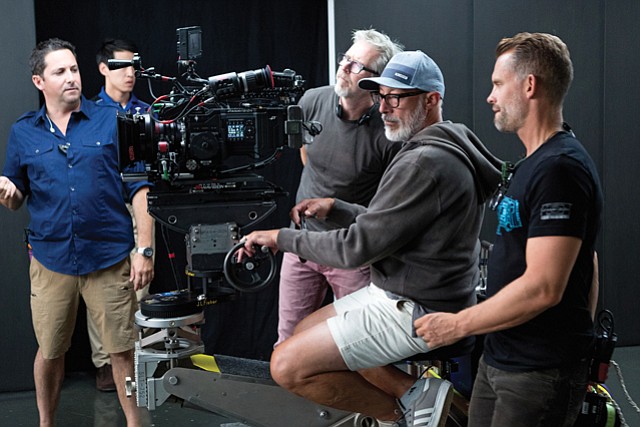 Billionaire Haim Saban might once again be at the forefront of the entertainment industry's future, ironically with a bet on a 65-year-old camera company that caught its break with "Ben-Hur."
Saban Capital Acquisition Corp. a special purpose acquisition company, announced last month the $622 million purchase of venerable motion picture equipment-maker Panavision Inc. as well as Sim Video International Inc., a Toronto-based motion picture post-production outfit.
Woodland Hills-headquartered Panavision and Sim would form "a premier global provider of end-to-end production and post-production services in the entertainment industry," according to the press release announcing the deal.
Indeed, Saban – the media mogul who popularized "Power Rangers" – has perhaps melded two key trends: the rapid rise in motion picture content production and a severely fragmented post-production market.
"They have identified a void in the marketplace," said Elsa Ramo, an entertainment attorney at Ramo Law.
But, Ramo added, Saban faces obstacles, including changes in production equipment and content producers staying in house.

Saban Capital Acquisition was founded in 2016 and raised $55 million from a public offering at $10 per share with a plan to target media and entertainment companies that could flourish in the public market.
The Panavision and Sim combined acquisition was made with that $55 million plus $250 million cash in trust from Saban's investment vehicle Saban Capital Group Inc., a $235-million debt raise and a $113-million equity stake from Panavision and Sim.
The deal is expected to close in the next 90 days, with the newly formed company using the Panavision name.
Representatives from Saban and Panavision declined to comment, stating it was too soon in the regulatory process to answer questions not addressed in Securities and Exchange Commission filings.
The filings show Sim with $115 million in 2017 revenue and $25 million in operating income.
And the filings depict a revitalized Panavision, recovering from years of debt and unresponsiveness to digital equipment developments.
Private equity group Cerberus Capital Management bought Panavision in 2010 with the aim to cut costs, and in 2012, Kim Snyder was hired away from the former Kodak Entertainment (now Kodak) imaging division to become chief executive, a position Snyder will retain in the reconfigured company.
Panavision has stayed afloat due to cuts, contracts with higher-end movies and television series – which make use of its comparably pricier equipment − and riding the wave of increased content.
The investor presentation grafts together Wall Street research to assert that in 2001, there were 182 widely distributed scripted movies and TV shows, with the total climbing to 487 by 2017.
Prev Next
For reprint and licensing requests for this article, CLICK HERE.