Moss Adams' Innovator Award Back in Fashion
Elie Madi tapped for honors at Petersen Automotive Museum
Friday, October 5, 2018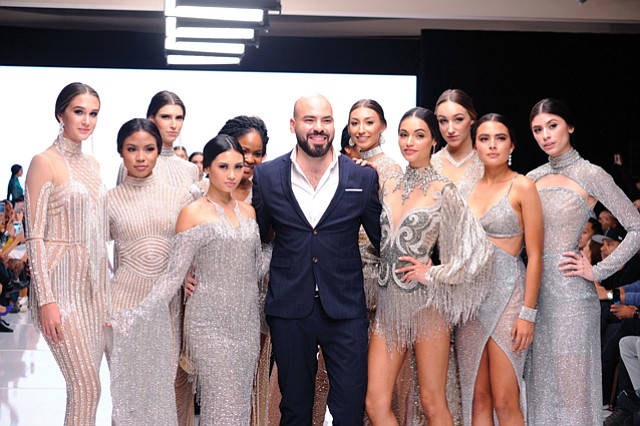 Financial advisory firm Moss Adams was poised to present its Fashion Innovator Award after a two-year absence when it recognized Los Angeles-based fashion designer Elie Madi on Oct. 6 as this issue went to press.
The ceremonies were held at the Petersen Automotive Museum at Wilshire Boulevard and Fairfax Avenue. The presentation of the award – nicknamed MAFI – officially kick-started LA Fashion Week at the Petersen.
The award had been given once a year to a California-based apparel company that exemplifies creativity and innovation in design, marketing and merchandising, Martin Hughes, national practice leader for apparel at Seattle-based Moss Adams, said in a statement.
"Besides paying for the Elie Madi fashion runway show, the award also gives the winner $5,000 worth of Moss Adams' consultation services," said Sharon House, spokeswoman for the financial advisory firm. "This includes accounting, legal and other services."
Moss Adams originally partnered with nonprofit Fashion Business Inc., for the award, but the latter closed shop last year, leading to the interruption in the annual schedule last year.
Cyber Maker Anchors Trade Week
Manufacturing Day is celebrated nationwide on the first Friday of October, but Los Angeles observed it for the entire week last week.
Mayor Eric Garcetti kicked off the celebration by announcing Cyber MakerSpace, a new educational initiative focused on equipping Angelenos aged 16 to 24 with the skills and training necessary for advanced manufacturing jobs.
The initiative includes plans for a 10,000-square-foot facility with hands-on manufacturing technology training, including predictive analytics, artificial intelligence, machine learning and robotics, the mayor's office said.
"Young Angelenos from all backgrounds deserve to find their passion, discover their talents, and get good-paying jobs that put them on a path to the middle class," Garcetti said in a statement.
The program is a partnership between the city and Culver City-based Clean Energy Smart Manufacturing Innovation Institute, an entity focused on clean manufacturing solutions, and Hollywood-based Youth Policy Institute, which develops educational programs for underserved communities in Los Angeles.
Cyber MakerSpace is slated to open in early 2019 with approximately 300 students as part of its first class. The city is funding the program, which will share a location with the Youth Policy Institute's YouthSource Center, which is funded by the city and serves hundreds of young people who have dropped out of school and are not working.
Manufacturing accounts for about 350,000 jobs throughout L.A. County, according to the state Employment Development Department, with companies making products ranging from durable goods like furniture and tools to nondurable goods like apparel and food.
The effort to create a workforce trained for advanced manufacturing stems from a shortage of skilled labor in the sector. The state of California launched a similar program last year called the California Strong Workforce Program, pumping $200 million across all 113 community colleges statewide to advance technical career training.
NAFTA 2.0
Just before midnight on Sept. 30, negotiators for the U.S., Canada and Mexico agreed on terms of an update to the 24-year-old trilateral North American Free Trade Agreement.
The move toward making the changes under the new moniker of the United States-Mexico-Canada-Agreement, or USMCA, was welcomed by officials in all three countries after months of tense negotiations.
"Overall, I think it's a positive step," said Stephen Cheung, president of the World Trade Center Los Angeles. "It's an upgrade, a renewal and modernization of the trade agreement. My biggest concern was (the United States) ruffling feathers and creating panic during the negotiations when it was not necessary."

The culmination of the 13-month negotiations wasn't without drama. U.S. officials grew frustrated with Canada in the last few months and focused on reaching an agreement with Mexico first. That pact was announced a month ago, with the two countries inviting Canada to sign by Sept. 30. Ultimately, Canada agreed to give ground on several key USMCA terms, including opening up its dairy market to U.S. farmers.
NAFTA had no sunset clauses but the USMCA will expire in 16 years, with a review to be held in six years from when the updated trade agreement goes into effect.
The new agreement allows Mexico and Canada to dodge additional tariffs on aluminum and steel, which U.S. President Donald Trump threatened repeatedly after imposing a 10 percent tariff on aluminum and 25 percent tariff on steel with many of its trading partners earlier this year.
The new deal also calls for increasing the percentage of car parts made in North America from 62.5 to 75 percent, a move Cheung said could benefit Los Angeles.
"We don't have hard auto manufacturing industry, but we do have a robust auto parts manufacturing sector as well as design," Cheung said. "The great news is that we can gain a competitive advantage in attracting new companies here."
The agreement awaits congressional approval (see related Commentary, page 54).
Staff reporter Shwanika Narayan can be reached at snarayan@labusinessjournal.com or 323-556-8351.
For reprint and licensing requests for this article, CLICK HERE.