CFO Awards 2018: How to Prepare Future Financial Stewards for an Evolving Marketplace
Custom Content by the Los Angeles Business Journal
Tuesday, October 2, 2018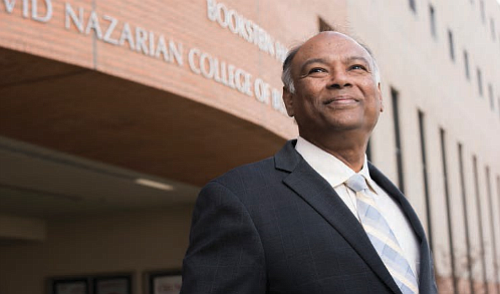 For the world of tomorrow, students need to be robot-proof, which implies that they need to think creatively, innovatively and critically. Furthermore, students must be collaborative, especially across disciplines, and have cultural agility to increase global thinking.
Beyond these efforts, the Nazarian College has already held two symposia on blockchain and is now in the process of organizing a conference with the creators and users of technology. The Nazarian College has also been named as one of the ten inaugural Alexa Innovation Foundation Universities. Participation in the Alexa project will allow Nazarian entrepreneurship students to develop the skills and tools to be creative and drive innovation with voice-enabled technology. Opportunities to study abroad have also become more attainable for students through the Nazarian College subsidizing their travel costs.
Changes in curriculum and professional development are now paramount. According to a report published in 2017 by Dell Technologies, business is changing so quickly that 85% of the jobs that will exist in 2030 haven't even been invented yet. On that note, the ability to gain new knowledge will be more valuable than the knowledge itself. In other words, beyond teaching standard business curriculum, it is crucial that today's students are prepared for technological changes with a lifetime of skills training and retraining, in real time.
Dr. Chandra Subramaniam is the dean of the David Nazarian College of Business and Economics at CSUN. He received his Ph.D.in Accounting from the University of Minnesota.
For reprint and licensing requests for this article, CLICK HERE.
Prev Next