Construction Costs Tick Up
Real Estate: Contractors unfazed; some projects altered
Friday, November 30, 2018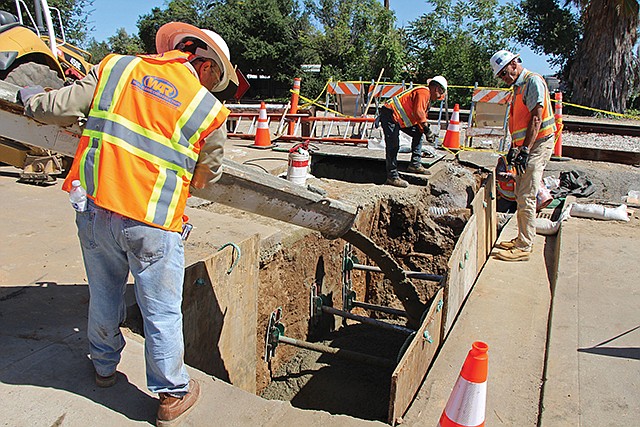 Rising construction costs are beginning to roil the L.A. building market, forcing some projects to be tweaked or restructured and construction companies to take steps to try to rein in costs.
There hasn't been mass disruption of industry operations, but local construction contractors have been cutting internal costs, negotiating design changes in projects up front and passing on higher costs to subcontractors – all in their efforts to limit their exposure to the higher material prices and rising labor costs.
"We've had discussions with (project) owners about adjusting projects to accommodate rising costs," said Scott Anderson, president of Charles Pankow Builders, a general contractor in Pasadena that focuses on building projects. "In most cases, we've been able to adjust design options to reduce costs."
Part of the cost pressure comes from the region's booming construction market and is a phenomenon that usually occurs at the peak of a building cycle. As more building and infrastructure projects enter construction, demand for skilled workers and construction materials soars, pushing up prices and costs, which in turn threatens to bust budgets and prompts a tightening of the reins. Such peaks occurred in the past around 2006, 1999 and 1989.
Tariffs imposed on steel, aluminum and lumber this year are also a contributing factor, according to industry sources.
One local company that often is a subcontractor on construction projects – South Los Angeles-based Giroux Glass Inc. – is having to cut costs to offset higher materials prices prompted by the tariffs.
Giroux spokeswoman Barbara Kotsos told the Business Journal last month that the tariffs have emerged as a double-whammy: The cost of the materials the company purchases has gone up, and there have also been delays as suppliers need more time to hunt for alternative sources for their materials.
But not everyone in the industry has felt the effect, yet.
"We've certainly heard a lot of noise about tariffs, but we haven't seen a lot of increases directly attributable to the tariffs," said John Gormly, president of Oltmans Construction Co., a Whittier-based construction contractor. "We have, on the other hand, seen more opportunistic price increases in recent years, especially after disasters like the hurricane in Houston last year."
Larger project managers, such as Century City-based AECOM, build in safeguards against market turmoil, according to Jay Badame, the company's president of building construction.
"Construction costs, such as materials and labor, can fluctuate due to a number of factors," Badame said in the statement. "One of the advantages we have in particular to hedge against these market movements are the relationships our firm has cultivated. … Working closely with clients, design teams, suppliers and labor partners, we have unique insight into what is driving pricing and therefore can implement various methods to lock in certainty over a project's lifecycle."
For reprint and licensing requests for this article, CLICK HERE.
Prev Next