Boundary Walker
Andy Lipkis • TreePeople Inc.
Friday, November 30, 2018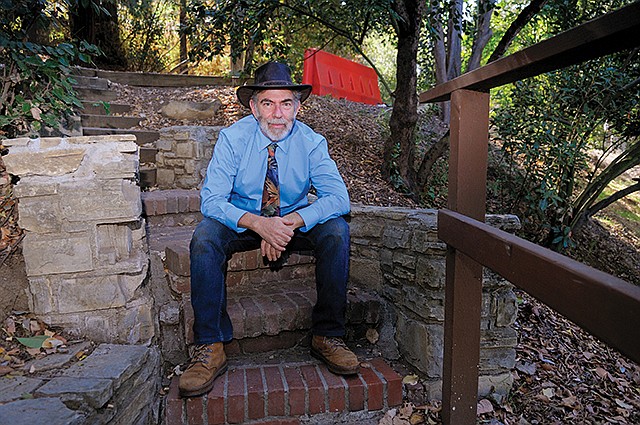 During a recent visit with the Business Journal, Andy Lipkis, founder and president of TreePeople Inc. in Beverly Hills, was grateful not to be asked to climb a tree and pose for a photo, a common request from the press.
He was even more pleased not to be asked to wrap his arms around one of the large, leafy fellows. Lipkis rejects the term tree-hugger because it invites potential supporters and donors not to take trees, or the nonprofit, seriously.
"People undervalue us, and the urgent, high value of trees – they are feeding us." Lipkis said in an interview at TreePeople's rustic campus at Coldwater Canyon and Mulholland drives. Its centerpiece is the LEED platinum-certified Center for Community Forestry's Conference Center, which includes a 216,000-gallon cistern to capture, clean and reuse rainwater.
Lipkis said civic-minded donors who recognize the need for million dollar donations to hospitals and universities are more hesitant to donate big money to support the work of TreePeople, which has come to serve as a global resource for urban ecosystems in the face of extreme climate events – such as the wildfires that have ravaged many parts of Southern California in recent years.
Lipkis said healthy trees create a biological evaporative cooler system that is crucial for combating climate change. "(Donors) are building the emergency room for our city, for our environment, for our families," Lipkis said. "You need to think of it that way, instead of (saying), 'Yeah, trees are nice; trees are cute,' let's give them some spare change."
Lipkis added that trees represent a sound investment for local companies. "It's damned good for business," he said.
As an example, he pointed to Boeing Co.'s Nov. 1 gift of $1 million to TreePeople, its second million dollar donation to the organization in the past decade.
It can be hard to recruit workers to move to Los Angeles, Lipkis said. But supporting local environmental organizations can signal a company's commitment to maintaining the health of the region where its employees live and work.
It's also a great way to encourage Boeing employees who have been giving back to their community, he said. "Boeing does it because its people have been volunteering for us for over 45 years − you are telling your employees that they are important."
Lipkis said TreePeople has been fighting to be taken seriously since 1976, when a then-teenaged Lipkis and friends began planting trees to rehabilitate smog and fire-damaged areas. At first, they called themselves the California Conservation Project and wore forest ranger-style shirts so as not to be seen as a bunch of hippie kids (read: tree-huggers). The organization later formally incorporated TreePeople because that's what everyone called them anyway.
Today, Lipkis said his clothing reflects the dichotomy between indoors and outdoors, formality and informality. He often pairs jeans and hiking boots with a jacket and tie to talk business while showing visiting government officials around TreePeople's woodsy trails.
"We all wear costumes in order to be seen and heard," Lipkis said. "Sometimes we joke that this is urbane forestry, rather than urban forestry, which sort of explains it. I dress because I want to respect the people that I'm with," he added.
"I'm a boundary walker, if you will, between the forest and the city."
For reprint and licensing requests for this article, CLICK HERE.