Robo Chef: Miso Robotics Gets Out of the Lab and Into the Kitchen
Innovation Special Report
Friday, November 23, 2018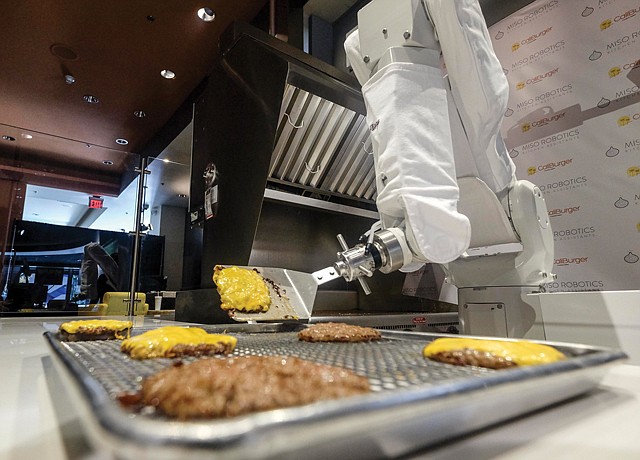 Miso Robotics Inc.
Industry: Artificial Intelligence, Technology
Year Founded: 2016
Number of Employees: 30
Location: Pasadena
Money Raised: $13.1 million
Miso Robotics Inc. doesn't believe robots should take every job – just some unpleasant ones.
The Pasadena-based company, founded in 2016 by a trio of Caltech alumni, makes Flippy, an articulated robotic arm designed to perform a variety of commercial kitchen tasks, such as flipping burgers or frying chicken.
Miso's prototypes are already in limited use – Flippy made its debut in March 2017 when the company signed a contract with restaurant operator Cali Group to install its robotic burger-flipping arm in 50 of the restaurateur's CaliBurger locations over the next two years. Miso Robotics added Dodger Stadium vending operator Levy Restaurants Inc. as a client in July, outfitting Flippy with a new prosthesis in order for it to fry chicken tenders at Los Angeles Dodgers games. Flippy cooked an average of more than 218 baskets of chicken per hour at Dodger Stadium during the latter half of the 2018 season and into the World Series. It is expected to remain part of the Levy kitchen team next season, according to Miso.
Levy and Cali Group are the only restaurant outfits Miso Robotics has publicly announced contracts with, but Chief Executive David Zito said the company has other clients and expects to add to its client roster in the first quarter of 2019.
Miso has raised $13.1 million since it was founded, and backers include Newport Beach-based patent licensing firm Acacia Research. The Flippy robotic arms cost $60,000, with an additional $1,000 monthly fee for maintenance and technical support, Zito said.
Local beginnings
Zito and co-founders Robert Anderson and Ryan Sinnet met through connections to Caltech's mechanical engineering program, which all three participated in as undergraduates. Prior to founding Miso Robotics, Zito cut his teeth working as the head of Pasadena-based homework help website Cramster Inc., which raised $9 million before being sold to textbook retailer Chegg Inc. for an undisclosed sum in 2012.
Anderson, who now serves as head of engineering at Miso, was an intern at Hawthorne-based Space Exploration Technologies Corp. (SpaceX) after graduating from Caltech in 2016. Sinnet, who graduated slightly after Zito in 2007, went on to receive his PhD in mechanical engineering from Texas A&M University, joined Miso Robotics after spending nearly two years as a control software engineer with Burbank-based solar power plant hardware manufacturer eSolar Inc., which has raised $222 million over five funding rounds.
Prev Next
For reprint and licensing requests for this article, CLICK HERE.