Planting Their Flag: Fifth Wall Ventures Connects Legacy Real Estate Firms With Tech Startups
Innovation Special Report
Friday, November 23, 2018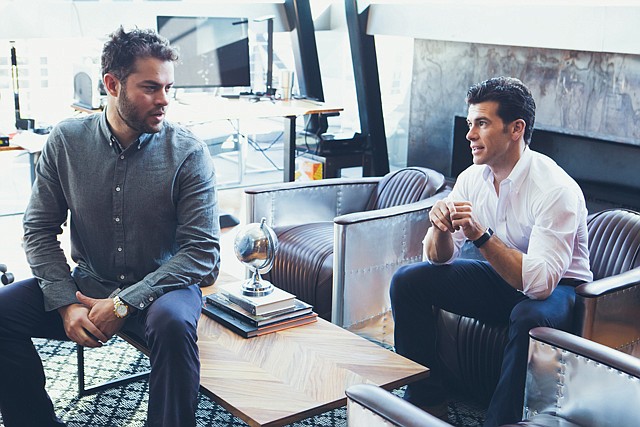 Fifth Wall Ventures
Industry: Venture Capital, Real Estate
Year Founded: 2016
Employees: 23
Location: Venice
Money Raised: $285 million
Fifth Wall Ventures co-founder Brendan Wallace is an advocate for new technologies and not just in his professional life as the managing partner of a venture capital firm focused on real estate technology.
Wallace, 37, typically zips the four blocks from his house to Fifth Wall's Venice headquarters on a Lime scooter, one of the ride-share vehicles that have become almost ubiquitous in Los Angeles.
Wallace's commute highlights a core theme for Fifth Wall: working to connect tech startups with large, established real estate players. Through these connections, Fifth Wall aims to identify startups that can guide legacy real estate firms through the sector's digital transformation.
With Lime – which Fifth Wall invested an undisclosed sum in as part of a $70 million round in February – the firm is using its real estate connections and strategic partners to help the on-demand scooter company find parking for its bikes and scooters in high-density areas.
Privately held Lime recently inked a deal with one of Fifth Wall's limited partners, Santa Monica-based Macerich Co., which announced plans this summer to help the company stage scooters in cities across the United States and internationally.
Macerich, the third largest mall operator in the United States, has plans to make Lime the exclusive scooter operator at its properties, including at Santa Monica Place, an open-air shopping mall located at the south end of the 3rd Street Promenade. Fifth Wall helped facilitate the deal, Wallace said.
Marching toward $1B
Several similar relationships have been forged by Fifth Wall, which is investing out of an initial $212 million fund that closed in May 2017.
The firm is now in the process of raising for two more funds, which together are planned to be more than $600 million, according to filings with the U.S. Securities and Exchange Commission.
If the money is raised as planned, the company would have roughly $885 million in capital at its disposal, including $212 million raised in its first fund and $73 million of special purpose vehicles, or SPVs. An SPV's assets are limited to the acquisition and financing of specific assets as a method of isolating risk.
If the new funds become oversubscribed – the firm's first fund was, according to Wallace – Fifth Wall could wind up with over $1 billion in its investment pool.
Prev Next
For reprint and licensing requests for this article, CLICK HERE.