Order Out of Chaos: Canter's Deli Scion Helps Restaurants Handle Delivery Glut
Innovation Special Report
Friday, November 23, 2018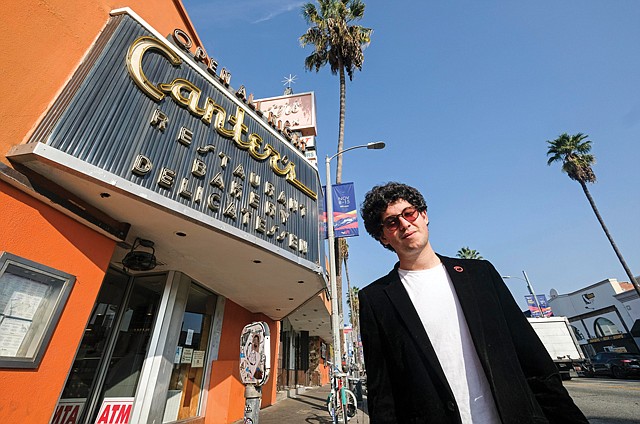 Ordermark Inc.
Industry: Restaurant, Technology
Year Founded: 2017
Number of Employees: 75
Location: Culver City
2018 Revenue (Projected): $1 million
Alex Canter was frustrated.
He was at his family's famed Canter's Deli restaurant in the Fairfax District, and the often-bustling restaurant had an additional source of chaos: 14 tablets fielding online orders from third-party food delivery apps.
Each device was dedicated to a different delivery service and pelted staff with disparate to-go orders. Handling the orders was difficult, but they made up at least a third of the restaurant's overall business by 2016, and getting rid of them wasn't an option, Canter said.
2018 Revenue (Projected): $1 million"That was the reality of our behind-the-scenes online delivery work flow," Canter said. "Because online ordering is another stream of revenue for our restaurant, we felt the need to be on almost all of them."
Out of this chaos, Ordermark Inc. was born. The company, which makes an app to streamline online delivery orders for restaurants, was founded in January 2017 by a co-founding team that included Canter, Mike Jacobs, Jay Fuhr and Paul Allen. A month later, the company closed a $3.5 million seed round led by venture capital firms TenOneTen, based in Century City, and Mucker Capital and Act One Ventures, both based in Santa Monica.
The company raised an additional $9.5 million Series A round in September led by London-based Nosara Capital, with participation from Vertical Venture Partners, Techstars Ventures, Riverpark Ventures, Matchstick Ventures, as well as the initial three venture capital firms that invested.
Ordermark counts 75 employees, has signed up 700 restaurants nationwide as clients and moved into a new 7,500-square-foot office in Culver City in October.
The initial idea for the company's app came when Canter talked to Jacobs while running the Canter's Deli food truck. Jacobs had launched a company called TapIn2, which managed to-go orders for stadium concession stands and food trucks. The duo started chatting about online orders with Jacobs inquiring on the ones Canter preferred.
"We use all of them," Canter recalls saying.
Jacobs immediately saw the logistics problem presented by the glut of apps, so he pitched Canter on the idea of a hardware device that would aggregate all of a restaurant's online orders in a single place. Canter was hooked as were venture capitalists.
Order uptick
Because restaurants see increased revenue and one more channel to reach customers, Ordermark may be on to something, experts said. Food delivery apps like Uber Eats, Postmates Inc. and Doordash Inc., among others, are important in today's competitive market. 
Prev Next
For reprint and licensing requests for this article, CLICK HERE.