Los Angeles Business Journal Innovation Special Report 2018
Friday, November 23, 2018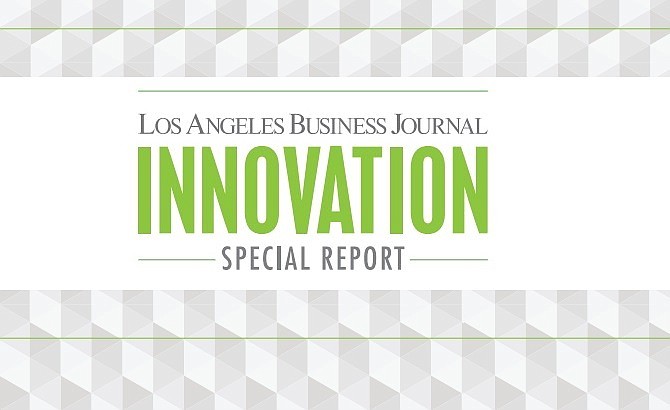 Los Angeles has always been an incubator for innovative business ideas. The Los Angeles Business Journal's Innovation Special Report takes a look at 20 companies across many industries that are developing new technologies and business practices to solve problems and simplify processes — from diagnosing brain injuries using noninvasive methods to moving people from point A to point B at 200 miles per hour. These companies are looking to build better batteries and robots that cook. They are putting office access in the palm of employees' hands and are finding practical business applications for virtual reality technology. These companies' capabilities to create new ideas and products are one of the remarkable aspects of L.A.'s business community.
Hyperloop Hub: Virgin Hyperloop Headlines Futuristic Transportation Tech's L.A. Ties
Planting their Flag: Fifth Wall Ventures Connects Legacy Real Estate Firms With Tech Startups
Order Out of Chaos: Canter's Deli Scion Helps Restaurants Handle Delivery Glut
Robo Chef: Miso Robotics Gets Out of the Lab and Into the Kitchen
Brain Gains: Neural Analytics Makes Waves With Portable Brain Scan Headset
Space Brokers: Warehouse Exchange Finds Niche in Cargo Storage Industry
Training Wheels: Talespin Uses VR to Help Companies Train Employees
Many Happy Returns: Company Makes Sending Back an E-commerce Purchase Simple
Second Sight: Second Spectrum Gives Live Insights to NBA Fans
Inspire's Energy Experiment: Flat Rates Billed as 'Subscription Service'
Coordinated Care: 123 Home Care Alleviates Pressure on Patients, Medical Facilities
Easy Access: Openpath Looks to Make Building Security More Efficient
Breaking the Code: H Code Finds Voice in Hispanic Market
Processing Paper: Laserfiche is Trying to Put an End to Physical Record-Keeping
Versatility Key for Thor: Electric Trucks, Next-Gen Batteries, Modular Chassis
DxTerity Stays Nimble: Customized Blood Test-Maker Moves Into Autoimmune Arena
Farm to Family: Milk and Eggs Delivers Farm-Fresh Goods Direct to Consumers
Cooking Up Cash: Kitchen United Sees Fortunes Rise With Food Delivery Boom
Digital Domain: GoDigital Media Tracks Where Web Content Used
Powering Forward: Romeo Power Breaks Mold on Car Batteries
For reprint and licensing requests for this article, CLICK HERE.