Dalian Wanda Sells One Beverly Hills for $420M
China-based firm backs off project as Alagem, Cain move in to take lead
Friday, November 23, 2018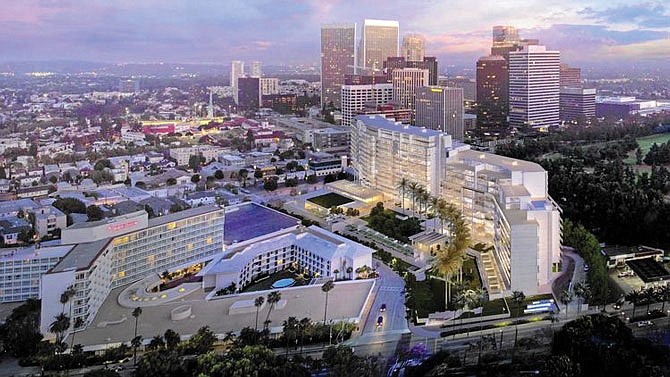 "This transaction once again demonstrates that high-performing grocery-anchored centers located within dense, infill trade areas continue to be in high demand, particularly from institutional investors," Brummer said in a statement.
• • •
Rexford Pays $40M for Carson, Carlsbad Properties
In one of the tightest industrial real estate markets in the country, Los Angeles-based Rexford Industrial Realty Inc. has snatched up two properties for $40.3 million in cash.
In Carson, Rexford acquired a 55,238-square-foot building on 5.41 acres for $16.1 million. Rexford will continue leasing the property to its current occupant, trucking operator Western Freight Carrier, which has signed a five-year lease.
Rexford also acquired two buildings on 8.28 acres in Carlsbad for $24.2 million. The industrial sites are each newly built and each have space for multiple tenants. Across the two buildings, which cover 114,572 square feet, occupancy currently sits at about 72 percent. Shea Properties Inc. was the developer, owner and manager of the property before the sale.
In the third quarter of 2018, Rexford Industrial reported rental revenue of $54.5 million, an increase of 26 percent over the year prior. With the new acquisitions, that figure is likely to continue rising.
• • •
Cushman & Wakefield's New Market Director
Real-estate firm Cushman & Wakefield Inc. has named Nick DiPaolo as the group's director of brokerage for the greater Los Angeles market.
He will oversee marketing in downtown, El Segundo and Long Beach, working with Eric Olofson, executive vice chairman for Cushman & Wakefield in West Los Angeles.
DiPaolo will work on business development, broker training and recruiting.
Before joining Cushman & Wakefield in 2016, DiPaolo worked at CBRE as a broker.
Staff reporter Hannah Madans can be reached at hmadans@labusinessjournal.com or (323) 556-8337.
Prev Next
For reprint and licensing requests for this article, CLICK HERE.