Forward Push
Interim President Wanda Austin looks to guide USC out of scandal-plagued period
Friday, November 16, 2018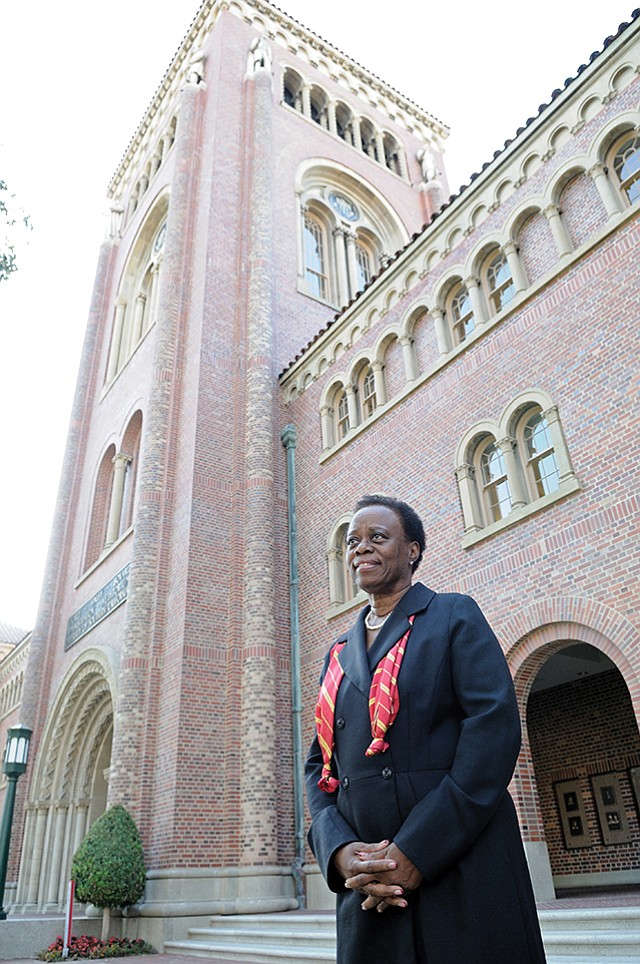 And were a lot of potential donors wavering?
On our donors, I can tell you we exceeded our $6 billion campaign goal 18 months early, and we have now surpassed $7 billion since we began the campaign in 2011. I see the evidence that our donors have continued to be very generous and very supportive, and that they see the benefit of the work that we are doing.
What steps have you taken to reassure USC's many business partners that despite the scandals, USC is a worthy institution to partner with?
First, the foundational message is the same that we're taking to all our stakeholders − that we have identified ways in which we can make some course corrections, but that we are still the phenomenal business partner that we've always been, and we look forward to continuing that relationship.
We continue to have lots of engagements with local companies. For example, with the ($300 million-plus) Coliseum renovation project, we have made sure that the workforce is widely diverse. That project is doing extremely well and will reflect well for the city of L.A.
Also, our students are amazing, working with state-of-the-art equipment and bringing the latest (technological expertise) with them (into the workplace). I get tremendous positive feedback about this from local businesses.
Please update us on the direct steps that USC has taken to address the scandals, including the creation of the Office of Professionalism and Ethics.
We set up that office to make sure that if someone sees something, and they are the least bit unsure about whether it's appropriate, they shouldn't have to figure out whom to call or approach. There's now one place to go – a one-stop shop if you will – and that we will then engage, respond and investigate.
You mentioned there were other lessons learned. Can you elaborate on those lessons?
One of the other big lessons we learned is that, when you have a decentralized HR function, it's hard to ensure that you have consistency across the board. We are consolidating the HR functions into one office, and ... we hope to have that senior VP in place during the first quarter of next year.
Any other steps?
Yes. We are about to announce the Presidential Commission on Culture, which will have its first meeting this month. This is a group that will advise the president on how do we improve our culture to make sure that the decisions we are making reflect our values.
Prev Next
For reprint and licensing requests for this article, CLICK HERE.