Forward Push
Interim President Wanda Austin looks to guide USC out of scandal-plagued period
Friday, November 16, 2018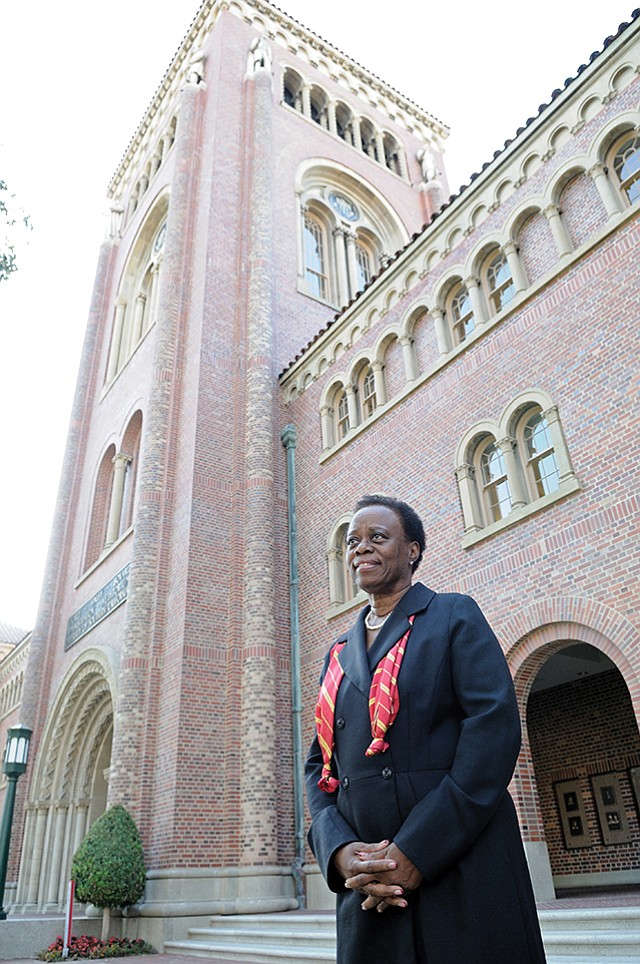 Wanda Austin was appointed interim president of USC in August, taking over for C.L. Max Nikias, who stepped down weeks earlier as the university was enveloped by a scandal involving allegations of inappropriate conduct by the campus gynecologist, and earlier allegations of inappropriate conduct by the now former dean of the university's medical school.
Austin, 64, is the first black woman to hold the post. She is a member of the USC Board of Trustees and is on the committee headed by board Chairman Rick Caruso tasked with selecting the university's next president. Austin said she is not a candidate for the permanent president position.
She graduated with a doctorate from USC's Viterbi School of Engineering and eventually joined the engineering and technology group of El Segundo-based Aerospace Corp., a nonprofit that operates a federally funded research and development center for space programs. Austin served as Aerospace Corp.'s chief executive from 2008 through 2016, managing 3,600 employees at 17 offices nationwide and growing revenue to $950 million.
In 2015, President Barack Obama named Austin to serve on the President's Council of Advisors on Science and Technology; she served through the end of 2016.
The Business Journal's Howard Fine sat down with Austin earlier this month to discuss the university's direction.
You ran Aerospace Corp., and now you're running USC. What have been the biggest differences for you in these two roles?
There is actually a lot in common between running these two organizations. My experience to date being a trustee, an alum, a board member with Amgen (Inc.) and Chevron (Corp.), my experience on government boards, all have given me practical knowledge and insights about leadership that I can bring to bear here. It's about making sure that people feel they are valued, that they are working in a safe and secure environment, that they are treated with respect, and that we are really clear about what our mission and goals and values are. The difference here compared to any other of these experiences I've had is that (at USC), we have a medical enterprise – an academic medical enterprise and a hospital – so the focus there is on patient care, on transformative research and on teaching for the doctors of the future.
What steps have you taken to try to reassure potential donors that despite the scandals, USC is a worthy institution to give to?
What I would also say is that we've just come out of a very difficult period, and that we have identified things that we can correct to make our environment and our culture consistent with our values, and that we've made some specific changes to that end. My focus has been on increased transparency and communication with all of our stakeholders, including the donor community.
And were a lot of potential donors wavering?
On our donors, I can tell you we exceeded our $6 billion campaign goal 18 months early, and we have now surpassed $7 billion since we began the campaign in 2011. I see the evidence that our donors have continued to be very generous and very supportive, and that they see the benefit of the work that we are doing.
What steps have you taken to reassure USC's many business partners that despite the scandals, USC is a worthy institution to partner with?
First, the foundational message is the same that we're taking to all our stakeholders − that we have identified ways in which we can make some course corrections, but that we are still the phenomenal business partner that we've always been, and we look forward to continuing that relationship.
We continue to have lots of engagements with local companies. For example, with the ($300 million-plus) Coliseum renovation project, we have made sure that the workforce is widely diverse. That project is doing extremely well and will reflect well for the city of L.A.
Also, our students are amazing, working with state-of-the-art equipment and bringing the latest (technological expertise) with them (into the workplace). I get tremendous positive feedback about this from local businesses.
Please update us on the direct steps that USC has taken to address the scandals, including the creation of the Office of Professionalism and Ethics.
We set up that office to make sure that if someone sees something, and they are the least bit unsure about whether it's appropriate, they shouldn't have to figure out whom to call or approach. There's now one place to go – a one-stop shop if you will – and that we will then engage, respond and investigate.
You mentioned there were other lessons learned. Can you elaborate on those lessons?
One of the other big lessons we learned is that, when you have a decentralized HR function, it's hard to ensure that you have consistency across the board. We are consolidating the HR functions into one office, and ... we hope to have that senior VP in place during the first quarter of next year.
Any other steps?
Yes. We are about to announce the Presidential Commission on Culture, which will have its first meeting this month. This is a group that will advise the president on how do we improve our culture to make sure that the decisions we are making reflect our values.
For reprint and licensing requests for this article, CLICK HERE.