UPDATED: Ontario Now Largest Outbound Freight Market in U.S.
Wednesday, November 14, 2018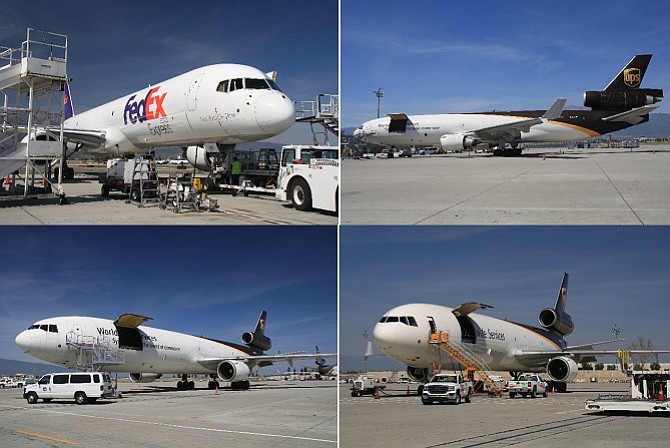 UPDATE: FreightWaves has clarified that it listed Ontario as the top outbound freight market by taking into account all outbound freight from the Inland Empire region, which includes air but is primarily truck and rail freight.
Ontario is now the top market for shipments of outbound cargo in the U.S., according to trade magazine FreightWaves.
The magazine reported on Nov. 10 that 4.63 percent of the nation's outbound freight shipments by volume were sent from Ontario during the month of October, surpassing for the first time the 4.51 percent of freight shipments sent from Atlanta. The Ontario International Airport Authority then sent out a release touting the region's new top ranking.
According to the FreightWaves article, the Ontario market includes many warehouses and "rail heads." Also, the article states, "The western ports have been overloaded with inbound containers from China, and this is a large factor in why we are seeing this changing of the guard."
In addition, both Fed-Ex Corp. and United Parcel Service Inc. have major operations hubs at the airport.
"Much of the seaborne cargo which moves through the Los Angeles-Long Beach harbor complex and then carried to the Inland Empire by truck and train is trans-shipped through Ontario's extensive warehouse industry to eastward destinations, making the city a key point in the nation's transportation network," Mark Thorpe, the authority's chief executive officer said in the release. "A considerable share of the cargo that passes through the Inland Empire is shipped from Ontario International Airport, which continues to post double-digit growth every month."
Education, energy, engineering/construction and infrastructure reporter Howard Fine can be reached at hfine@labusinessjournal.com. Follow him on Twitter @howardafine.
For reprint and licensing requests for this article, CLICK HERE.