Heyday Begins West Coast Expansion Plan With $8M, Fifth Wall's Backing
Tuesday, November 13, 2018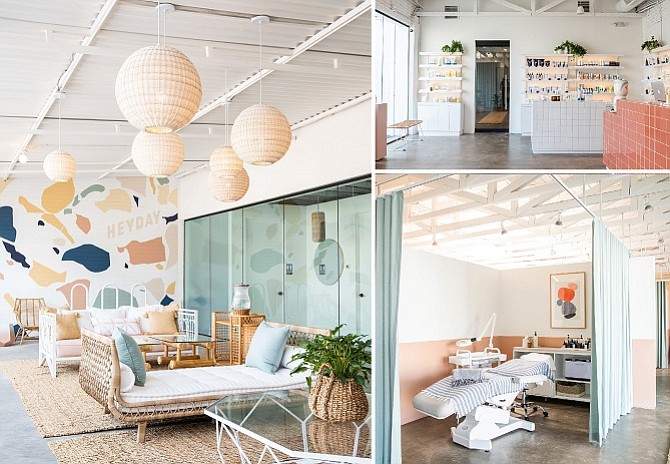 A skincare chain in New York City with big hopes of disrupting the industry has established its first location in Southern California and plans to spread throughout region with the help of $8 million in funding from an investment group led by Venice-based Fifth Wall Ventures.
Heyday's West Hollywood location at 7228 Beverly Blvd., is the company's first outside of New York, said Adam Ross, the company's chief executive and co-founder. Ross said Heyday is planning to build a foundation for other moves into major cities, including Boston, Chicago, Dallas, San Francisco and Washington, D.C.

The latest fundraise will finance the company's brick-and-mortar expansion in Los Angeles and California.
"Our strategy for Heyday is to replicate what was done in New York," Ross said. "We see a path to more doors in L.A. than New York."
Potential L.A. neighborhoods for expansion might include Silver Lake, Santa Monica, Brentwood, Century City, Culver City and Beverly Hills, as well as Downtown to cater to a fast-growing professional crowd.
"The goal is to reach the right level. You don't want to oversaturate the area," said Brendan Wallace, co-founder and managing partner with Fifth Wall.
Kevin Campos, a principal with Fifth Wall, has joined Heyday's board of directors to help map out growth.
A notable recent hire who will execute Heyday's expansion plans is Ashley Peterson, who previously served as the vice president of experience at Sweetgreen. She helped build the Culver City-based fast-casual restaurant chain that serves salads from a small regional brand with fewer than 20 stores, to a national business with nearly 100. She plans to bring the same strategic approach to Heyday with its bi-coastal expansion.
Since the first Heyday shop opened on Broadway in New York City in June 2015, the skincare chain has drawn venture capital interest. Among its first investors who brought $3 million in seed money were venture capital firms Lerer Hippeau, Brainchild Funding, M3 Ventures and CircleUp.
Finance reporter Pat Maio can be reached at pmaio@labusinessjournal.com or (323) 556-8329.
For reprint and licensing requests for this article, CLICK HERE.