Storied Sweets
Lee Zeidman • Staples Center
Friday, November 9, 2018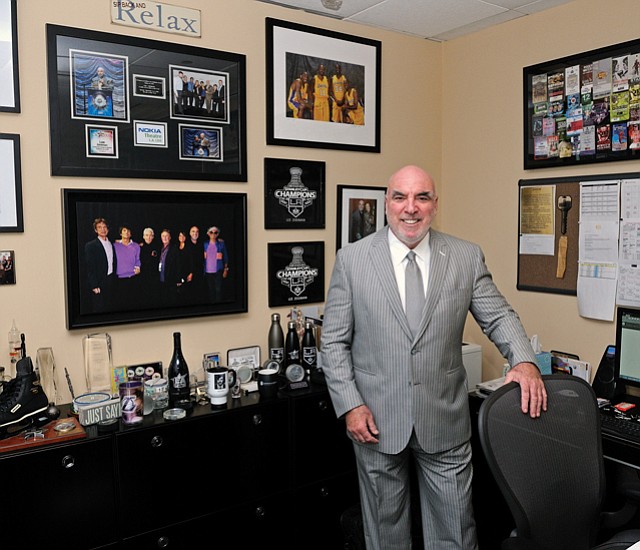 Lee Zeidman, president of downtown's Staples Center, Microsoft Theater and L.A. LIVE entertainment complex, is like a kid in a candy store in his memorabilia-filled office in the complex's administrative tower.
Literally.
Zeidman keeps his coffee table stocked with a tempting array of bite-sized treats wide enough to impress Willy Wonka: Raisinets, teeny Twix bars, Gummi Bears and Ghirardelli chocolate squares reside in happy harmony with salty snacks like nuts and Corn Nuts. The busy executive said he does all his own sugar shopping at Smart & Final Stores Inc.
"There's a great story behind the candy," Zeidman said during a recent visit from the Business Journal. According to Zeidman, pretty much everything in the office has a great story, but here's the deets on the sweets:
"Before I was the first person ever hired for Staples Center, I worked at the L.A. Forum," Zeidman said, referring to the former home of the Los Angeles Lakers in Inglewood. "I was there for 10 years, and (then Lakers General Manager) Jerry West used to invite me up to his office to watch all the games.
"I noticed the candy jars in his office. People would stop by, take a piece of candy, and shoot the (breeze) with him. I said, wow, if I ever get to a point where I'm running something, I'm going to have candy. It's like, 'Let's get this deal over and have some candy.'
"I think I've taken it a little farther than those two candy jars that Jerry had," Zeidman added with the ebullient smile that never seems to leave his face. He acknowledges Staples Center personnel often dip into Candy Central, even when he's not there.
Zeidman said when he gives up this gig, he's headed for Bora Bora. Still, retirement doesn't seem to be in the cards for a while. Combining 10 prior years at the Forum with two decades at Staples, Zeidman said he has attended more than 5,500 events and counting.
"I tell people there are no weekends or holidays in our business; it's all event driven," Zeidman said.
During a game or concert, everybody knows where to find Zeidman: "I'm at the northeast corner where the visiting basketball team enters the court and where the Los Angeles Kings enter the ice," he said.
Zeidman prefers flip-flops and Tommy Bahama leisure wear when he's home in Venice but said: "I wear a suit every time I'm in this building. … For somebody who's responsible not only for this building, but the whole L.A. LIVE complex, and the hotels, I thought it was very important to project a certain image."
But don't let the suit put you off from dropping by Zeidman's office for a handful of Hershey's miniatures and a great story.
"I like to be reminded of the great events that have taken place here, the successful ones and even some that are not," Zeidman said. "It gives me a warm feeling when people can actually walk in and say, 'Oh my God, look at all that stuff!'"
For reprint and licensing requests for this article, CLICK HERE.