Construction Rises: Local Firms Show Big Growth During Region's Building Boom
Fastest-Growing Private Companies 2018
Friday, November 9, 2018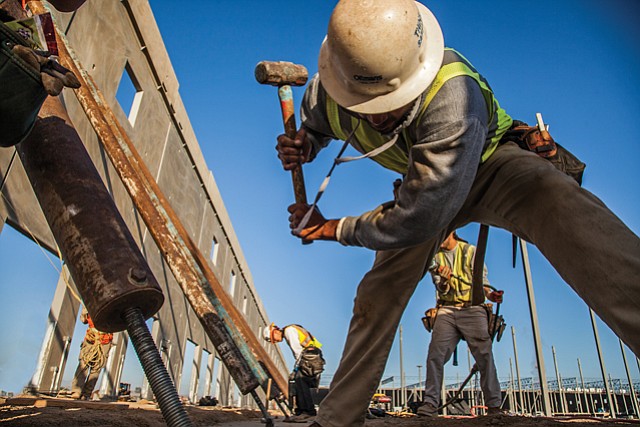 One in 10 companies on this year's Business Journal list of the 100 fastest-growing private companies in Los Angeles County were construction contractors, showing just how impactful the recent building and infrastructure boom has been to the local economy.
There are 10 construction companies on the 2018 list; that's up from eight on last year's list and three in 2016.
Six of the 10 were general contractors; all but one of those grew revenues more than 50 percent from a nine-figure base revenue over the three years (2015 through 2017) measured for the list. That gross revenue growth for these firms is larger than for most firms on the Business Journal's list. Three were subcontractors or suppliers, and one was a specialty contractor focused on seismic retrofit and foundation repair.
"Construction has been hot, hot, hot," said Barbara Kotsos, marketing director for Giroux Glass Inc., a glass pane installer based near USC in South Los Angeles. It placed No. 68 on the list with a three-year revenue growth of 71 percent to $56 million. Giroux recently installed glass panes atop the Paul Hastings Tower at City National Plaza downtown.
"You can't look in any direction in downtown Los Angeles without seeing cranes. Some of our contractors tell us they have 10 years of work in the pipeline," Kotsos said.
Of course, the stretch from 2015 through 2017 were years of plenty for the construction industry across California and the nation: Revenues grew 15 percent on both fronts over that time span, according to figures supplied by Gary Tulacz, senior editor with New York-based trade publication Engineering News-Record.
"Southern California has benefited from an overall strong construction market," Tulacz said. "Part of this has been fueled by a variety of bond issues passed over the last few years, funding transportation and infrastructure upgrades, and school construction. Southern California has also benefited from an influx of foreign money coming into the region to fund real estate development."
Rapid growth at giants
Adding to the boom was pent-up demand from the real estate downturn of 2008 through 2012, according to Dafna Zilafro, vice president of marketing for Matt Construction Corp., a Santa Fe Springs general contractor that placed No. 77 on the list with 58 percent revenue growth between 2015 and 2017 to reach $490 million in revenue last year. Matt Construction recently completed work on the Waldorf Astoria hotel in Beverly Hills.
"The last recession hit our industry especially hard because it curtailed financing for construction," Zilafro said. "It was a long time before the financing market eased up and allowed access to borrow for development. When that finally did come back, there was a lot of deferred development and maintenance, making for several years' worth of pent-up demand. That's why you're seeing so many in our sector that saw such spectacular growth during that time span."
Zilafro said Matt Construction was particularly well-positioned for the upturn because the company was able to retain most of its key people during the downturn.
"We had the experienced personnel and the projects in place to move quickly when the market turned up again," she said.
Zilafro said the firm's project backlog has continued strong over the past year, which translates into more work over the next couple of years.
The growth was just as rapid at No. 70 Oltmans Construction Co., of Whittier, where revenue jumped 68 percent from 2015 through 2017 to reach $734.6 million, making for the largest revenue gain in dollars – nearly $300 million – of any construction-related company on the list.
"We diversified into a lot of new areas – solar projects, healthcare, institutional (nonprofits, schools, etc.) and infrastructure – all of which grew very rapidly coming out of the recession," said Oltmans President John Gormly.
Another hot area of late has been industrial, Gormly said. He noted the company finished work late last year on a 1 million-square-foot Amazon.com Inc. warehouse in the Inland Empire city of Eastvale.
He added that, unlike some other companies, Oltmans is not experiencing labor shortages now.
"We are a union workforce, and that's been a big help," Gormly said. "The union has provided a steady, well-trained source of labor and has lent stability to our workforce."
Seismic boost
The construction company with the fastest revenue growth rate from 2015 through 2017 was No. 29 Alpha Structural Inc., which grew 146 percent to reach $16.2 million. Sunland-based Alpha Structural specializes in seismic retrofitting and foundation repair, and has seen its business jump with the enactment of seismic retrofit mandates in Los Angeles, Santa Monica and several other local cities.
"We were one of the first companies out of the gate specializing in seismic retrofitting for soft-story residential buildings," said Max Oliva, senior vice president of expansion for Alpha Structural.
Oliva said the company has more recently picked up seismic retrofit work that was not completed properly by unlicensed contractors.
The foundation repair business has also grown with the increase in residential real estate transactions and remodeling in recent years.
"When a house is in escrow or about to be remodeled, that's when we get inquiries related to foundations that are sinking," Oliva said.
Less sunny outlook
Looking ahead, Tulacz and the local contractor executives said it will be more difficult to sustain rapid revenue growth as the industry confronts labor shortages, trade tariffs pushing up costs for construction materials, and rising interest rates driving up borrowing costs for major projects.
"The problem of labor shortages in the trades and on the management side for construction … has constrained a lot of larger contractors from bidding on as much as they would like," Tulacz said.
Also, Tulacz said, many major contractors are now being more selective in their choice of projects so as not to put too much strain on cash flow – in essence, they are voluntarily slowing their growth a bit.
"There's more work out there than we can accept," Matt Construction's Zilafro said.
And then there's the impact of trade tariffs.
"The trade tariffs are impacting us like a bad game of dominoes," Giroux Glass' Kotsos said. "The tariffs are hitting our suppliers, who are passing on the higher costs to us. And they are causing delays as our suppliers are hunting around for alternative sources for their own goods, so they won't be subject to the tariffs."
Kotsos said the rising prices for glass and other materials have forced the company to cut costs elsewhere to keep in line with their project bid prices.
"We're getting good again at cutting expenses," she said.
For reprint and licensing requests for this article, CLICK HERE.