Social Capital
Clubs oriented toward the creative class are popping up around Los Angeles
Friday, November 2, 2018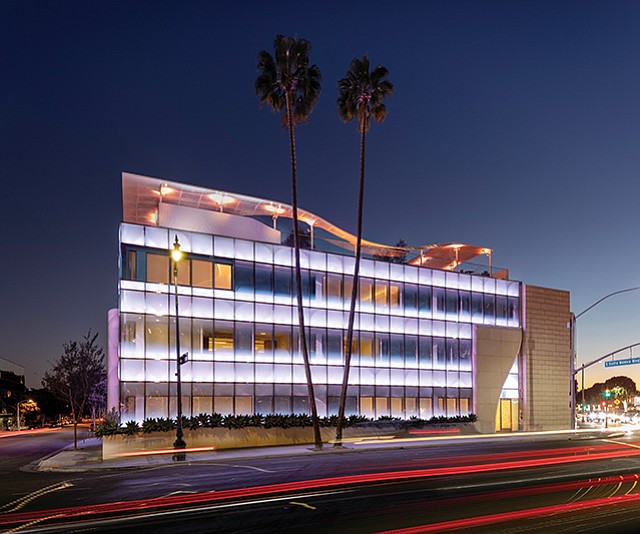 Two new Los Angeles-area private clubs hope to distinguish themselves in the local social-club market by connecting with L.A.'s sizeable creative community.
Photo Gallery
Social Clubs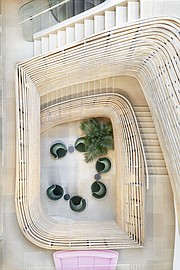 Clubs oriented toward the creative class are popping up around Los Angeles
The two clubs, Spring Place Beverly Hills, which opened Oct. 29, and h Club Los Angeles, slated to open in Hollywood on Feb. 9, appear to be following in the footsteps of celebrity hangout Soho House by limiting membership to creative businesses including media, entertainment, music and fashion.
Along with the private dining, athletic facilities and residence rooms typical of membership clubs around the world, the new clubs also offer studio space for content creation or performances, screening rooms and venues for promotional activations of all kinds.
The new L.A.-area clubs are offshoots of existing club enterprises: Spring Studios Ltd., which operates Spring Place New York; and Seattle-based Vulcan Inc., which backed h Club London. These two enterprises are not nearly as widespread as the empire of Soho House Ltd., which boasts 23 Soho House clubs worldwide, including a West Hollywood location on the Sunset Strip.
Soho also plans to expand its creative club footprint in downtown with the Soho Warehouse in the Arts District, reportedly slated to open in spring 2019. The project, located at a former industrial building at 1000 S. Santa Fe Ave., is designed by Santa Monica-based KFA Architecture.
The first Soho House opened in London in 1995 with the mandate that the clubs provide a home away from home for people in the creative industries and media. The Soho House local family also includes the Little Beach House Malibu, billed as a "small, local club for the creative community of Malibu."
Springing into action
First on the new club scene is Spring Place Beverly Hills, self-described as workspace meets social club, located between the Peninsula and Waldorf Astoria Beverly Hills hotels. Spring Place leases the approximately 50,000-square-foot space in a building owned by Beverly Hills-based Gores Group, a private equity investment firm. The club was designed by Culver City-based wHY Architecture.
To date, the club has accepted 250 members. Memberships range from $750-$2,400 a year depending on access to various amenities, with discounted memberships available for people under 30.
The 50,000-square-foot space is smaller than the original Spring Place New York, which opened in 2016, estimated at 80,000 square feet. The company also plans to open a downtown club of about the same size as the New York Club in 2020.
Several news sources, as well as an emailed invitation to an October press preview of the club, describe Spring Place Beverly Hills as backed by Leonardo DiCaprio. Spring Place Chief Executive Francesco Costa would not confirm DiCaprio's involvement but said: "There are many prominent people involved. Some are members; some are investors."
Costa added that he does not see Spring Place as a competitor to SoHo House or h Club.
"Each of them is positioned for a different demographic," he said. "We see ourselves as a workspace with a strong social element."
Costa said the intersection between work and social events looks different for the creative community.

"It's not like co-working for lawyers," he said. "People in these industries work in a different way. In New York, we have a lot of fun things going on, interesting activations going on, especially in the fashion industry."
Cross-pond connection
Hollywood's soon-to-open h Club Los Angeles is an offshoot of h Club London, founded in 2004 by English musician Dave Stewart and Microsoft Corp. co-founder Paul Allen's Vulcan Inc. investment company. Allen died last month.
The L.A. club, located at 1717 Vine St., former site of the Redbury Hollywood hotel, will encompass 100,000 square feet and five floors of spaces, including an outdoor pool deck, tea room, gym, music studio, screening room and live performance space. The club was designed by Dallas-based HKS Architects Inc. in collaboration with London interior designer Russell Sage.
The club also offers members 35 bedrooms featuring artworks by artists from h Club's Art Program. Memberships range from $2,200 to $3,000 a year. The club said so far 1,200 members have joined the Hollywood club.
Kynderly Haskins, general manager of h Club Los Angeles, said that while the club will offer several co-working suites, it distinguishes itself from the pack with its partnerships with local creative companies, including Capitol Records, which is lending photos from its archives for the club's art program. The club also provides internships and grants for young talent through its philanthropic arm, h Foundation, in the tradition of the London club.
"We are not only a place for creatives to kind of gather; we are actually known for creating things in our space," Haskins said. "What we like to say is, we're the most inclusive exclusive club. We're not built on snobbishness … if you are a creator, this is where you want to belong. This is your world."
For reprint and licensing requests for this article, CLICK HERE.