Neural Analytics Wins Federal Approval for Robotics Tech
Wednesday, May 30, 2018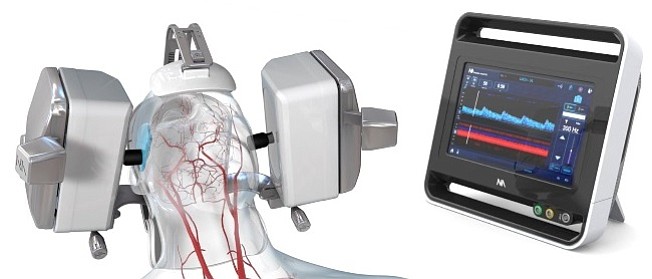 Neural Analytics Inc., a medical device company based in Rancho Park, announced it has cleared a federal hurdle for a robotic system to assist with ultrasound in diagnosing brain trauma.
The privately held company on May 30 announced it had received clearance from the U.S. Food and Drug Administration for its NeuralBot System, a robotics technology that works with the company's Lucid ultrasound system.
The portable Lucid system employs a battery-operated tablet that can diagnose brain injuries from outside the body.
"Our products provide clinicians with a cost effective and non-invasive assessment of a patient's brain health, and can help clinicians diagnose brain disorders, potentially with the need for more invasive testing," said Leo Petrossian, chief executive for Neural Analytics, in a statement.
Petrossian launched the Los Angeles biomedical firm in 2013 out of UCLA with graduate students Robert Hamilton and Dan Hanchey.
Since then, it has received more than $50 million in investor funding, including a $15 million Series B round in January. Last fall, it was awarded a $10 million contract by the U.S. Army to help develop a portable kit to assess combat-related traumatic brain injuries.
Health business reporter Dana Bartholomew can be reached at dbartholomew@labusinessjournal.com. Follow him on Twitter @_DanaBart.
For reprint and licensing requests for this article, CLICK HERE.