Downtown Incubator Aims for U.S.-China Bridge
Jiangsu-based effort draws support of SoCalBio, Mann Institute at USC
Friday, May 25, 2018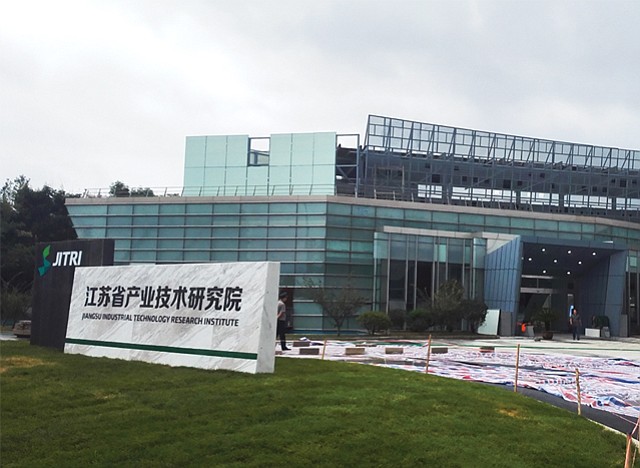 Investors in China and industry advocates in Los Angeles joined forces this month to launch an incubator intended to help local biomedical companies sell their products in what has become the world's second-largest healthcare market.
CrossLinkBio Inc. opened at 505 S. Flower St. in downtown's Financial District as a bridge to help early stage startups. It has government backing in China, and aims to raise a $50 million venture fund to fuel development.
"Congratulations, CrossLinkBio, for creating an opportunity for Chinese and American companies to explore business opportunities, both in Asia and in Los Angeles," said Jan Perry, general manager for the Los Angeles Economic and Workforce Development Department, who served 12 years on the City Council.
"We're here – we're ready to train and prepare a work force that you need," Perry said. "And to help you get the business resources that you need to succeed."
Perry was among the dozens of government officials, business leaders and biotechnology advocates from Los Angeles and China to attend an official grand opening May 16 at the nearby Jonathan Club.
CrossLinkBio was founded by the Jiangsu Crosslink Pharmatech Park Co. in tandem with the Jiangsu Industrial Technology Research Institute (JITRI), a government-backed nonprofit group based in the eastern Chinese province of Jiangsu.
Its American partners include the Southern California Biomedical Council, a Los Angeles-based trade organization, and the Alfred E. Mann Institute for Biomedical Engineering at USC.
Organizers say the so-called "cross-border biotech incubator" will assist startup companies in Los Angeles develop medical devices and other products for the vast-but-difficult market in China, where regulatory standards can hamper U.S. companies seeking a foothold.

CrossLinkBio backers in Jiangsu Province have raised roughly $17 million in funding toward a $25 million investment pot. U.S. angel investors are expected to raise another $25 million.
Enormous potential
China's health care sector now leads the world in growth, with a five-year compound annual growth rate of 17 percent, compared with 4 percent in the U.S. and negative 2 percent in Japan, according to KraneShares, a research firm.
The nation of 1.4 billion also is the world's second- largest health care market despite having significantly lower per-capita health care costs.
Health care spending in China was $594 billion in 2015, according to CrossLinkBio. It's expected to nearly double to $1.1 trillion by 2020.
"It's a huge market," said Yuanzan "Charles" Ye, chief executive of CrossLink Pharma, an incubator in China. "The government is focusing on new technology and regulatory changes, with lots of opportunities to grow in China."
His company will help its U.S. counterpart in Los Angeles set up what it bills as a one-stop shop for everything to break into the China market, including funding, market analysis, regulatory approval, manufacturing, sales and marketing to hundreds of hospitals and other health care businesses.
The Jiangsu Industrial Technology Research Institute, based in Nanjing, will get royalties and biomedical technology from its American and other overseas investments.

JITRI, among the top technology research centers in China, has 39 institutes staffed by more than 6,000 researchers that specialize in fields from robotics and nanotechnology to biomedicine.
International expansion
Los Angeles marks its eighth international office opened since 2016, following Silicon Valley, Houston, and Boston, as well as Copenhagen, Toronto, Stuttgart and London.
The Jiangsu industrial region of 79 million residents is located northeast of Shanghai.
Boosters of the Jiangsu region say future growth depends on building a bridge based on innovation to connect between its industries and overseas companies – including the CrossLinkBio incubator linking Los Angeles biomedical firms and China.
"Jiangsu is really a leading producer in the economy," said Liu Qing, president of the Jiangsu Industrial Technology Research Institute, in Los Angeles during a six-stop U.S. tour. "But we need innovation. We need technology. We can't keep growing the economy by simple manufacturing. It's not enough."
Staff reporter Dana Bartholomew can be reached at dbartholomew@labusinessjournal.com or at (323) 556-8333.
For reprint and licensing requests for this article, CLICK HERE.