UPDATED: Long Beach Press-Telegram Down to One Reporter; Departing Staff Plan New Pub
The company says it has a 'larger network' of journalists covering Long Beach
Tuesday, May 22, 2018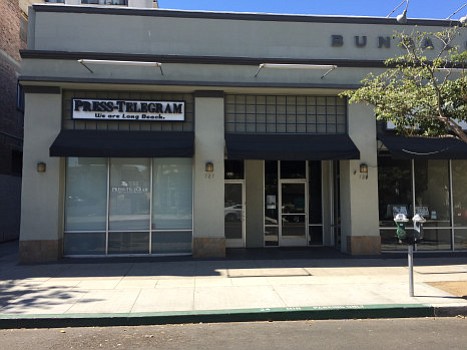 See related story: Molina's Pacific 6 to Finance New Long Beach Publication
This story has been updated with a comment from the Long Beach Press-Telegram
The Long Beach Press-Telegram is down to one reporter after three staff members quit May 21 to start their own Long Beach publication, the latest sign of instability at Southern California newspapers owned by Denver's Digital First Media.
City Editor Melissa Evans, Crime and Safety Reporter Jeremiah Dobruck, and Tim Grobaty, a Press-Telegram columnist for the last 42 years left the paper to start a new publication that will cover local news, according to Evans.
Evans told the Business Journal that details on the new publication including what it will be called should come in two weeks.
"We were in a terrible situation," Evans said of her now former employer, claiming that Digital First, whose majority stakeholder is New York investment house Alden Capital, "has no investment in local journalism."
Grobaty wrote a message May 22 on his Facebook wall, "To paraphrase an old coworker, it was a great 35 years; Unfortunately, I was there for 42," adding, "Great an exciting things to come in a few weeks from those of us who left this week."
Southern California News Group is comprised of 11 daily newspapers, as well as multiple weekly newspapers and magazines including the Los Angeles Daily News and Orange County Register.
The newspapers have shared stories over the past few years, and reporters. The Press-Telegram's lone, current staff reporter, Chris Haire, previously worked for the Orange County Register.
Eric Morgan, spokesman for the Southern California News Group, dismissed the report that the paper has only one reporter covering the city.
"It is disingenuous to suggest our news organization devotes only one reporter toward covering a city that's as expansive as Long Beach," he said. "We have a larger network of full-time journalists and freelance contributors specifically covering Long Beach and news events originating in the city that impact the entire region. We are also replacing the positions of the journalists who left The Press-Telegram, and look forward to having additional strong voices to represent the optimistic and vibrant aspects of the city. Long Beach is in the midst of a renaissance, led by a progressive mayor and diverse community. We are committed to serving Long Beach, and The Press-Telegram is proud of its 121-year history of informing and connecting this community."
The Long Beach Press-Telegram has been in existence since 1897, and for 45 years was part of the Knight Ridder roster of publications. It was purchased by Los Angeles News Group in 1997, which later became part of Digital First Media.
Long Beach had an estimated population of more than 470,000 in July 2016, according to the U.S. Census Bureau, and is the second largest city in Los Angeles County.
Media and entertainment reporter Matthew Blake can be reached at (323)556-8332 or mblake@labusinessjournal.com
For reprint and licensing requests for this article, CLICK HERE.