LA Weekly Moves Downtown
Thursday, May 17, 2018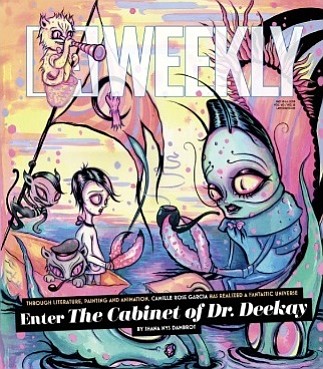 LA Weekly has moved to 724 Spring St. in downtown amid questions about the newspaper's financial future.
Publisher Brian Calle confirmed in an email May 17 that the newspaper moved to its new locale, although the publication's web continues to list the prior address at 3861 Sepulveda Blvd. in Culver City.
Calle is part of the Semanal Media Group ownership team that bought the alternative weekly in November from Voice Media Group.
The former editor of the Southern California News Group's opinion pages, Calle took heat after he laid off nine of the 13 of the Weekly's editorial staff.
The fallout produced a boycott LA Weekly group, and sparked the newspaper to cancel The Essentials in March, a commemoration of the city's top restaurants. The Essentials was traditionally a big LA Weekly money maker, according to Matt Cooperstein, the Weekly's publisher before Calle.
Calle said in March that the publication would announce a new slate of events. But the Weekly has no events scheduled, and Calle said in his email, "We have no information to share on events at the moment."
Also unclear is when the Weekly moved into its new digs, and why the company moved before their 10-year lease expired in July. Calle did not immediately return follow-up messages.
The Weekly appears to have moved forward on Calle's intention to hire new staffers. The newspaper's masthead lists new arts, entertainment and culture editors.
Media and entertainment reporter Matthew Blake can be reached at (323)556-8332 or mblake@labusinessjournal.com
For reprint and licensing requests for this article, CLICK HERE.