SWA Aims for Altitude in LB
TRANSPORTATION: Will seek to add as competitor cuts
Friday, May 4, 2018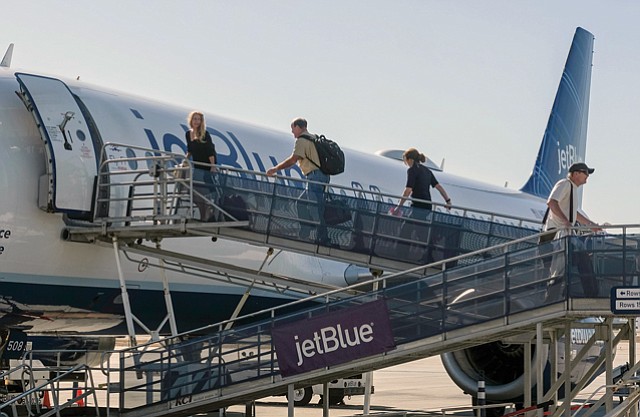 He said that Hawaiian Airlines is now considered an incumbent airline.
Open flights
So far, though, there have been limited indications of interest in the soon-to-open slots at Long Beach Airport from airlines that don't already serve the facility. Incumbent carrier Southwest, which first entered Long Beach only two years ago seems to be most keen on snapping up JetBlue's flights.
"As local Long Beach customers know, we've always looked for ways to benefit them by adding low fare service when slots become available," Adam Decaire, managing director of network planning for Southwest, said in an email. "Southwest absolutely would analyze any opportunity to respond to obvious demand for our service in the L.A. Basin."
Responses from four air carriers that would be newcomers ran the gamut from a generic statement of consideration of any flight slot openings at any airport, to no interest at all in Long Beach.
Janet Lamkin, president of the California region for Chicago-based United Airlines, said the airline considers any opportunities to add flights at airports when they come up. But she did not say whether the airline was looking specifically at the Long Beach slots.
Spokespeople for two other airlines – Seattle-based Alaska Airlines and Denver-based Frontier Airlines – had no comment.
Only one air carrier besides Southwest contacted for this story – Las Vegas-based Allegiant Airlines – gave a definitive response on the Long Beach slots.
"At this time, we are not considering the available slots at Long Beach Airport," spokeswoman Krysta Levy said in an email.
The generally tepid responses from outside airlines are not surprising, according to Michael Boyd, president of Denver-based Boyd Group International, an aviation consulting firm.
"Long Beach Airport slots simply don't have the same demand as from other airports," Boyd said. "The airlines left from consolidation apparently have most of what they feel they need."
One possible reason: this isn't the first time in recent years that a sizable number of slots have become available at Long Beach Airport, which is governed by a noise abatement settlement reached between the city, neighboring residents and the FAA. The agreement gives the facility the right to add to its overall number of flights only if the cumulative decibel count of noise from its current lineup is below the allowable limit. That happened in 2015 when the Long Beach City Council voted to add nine daily flights to an existing schedule of 41, bringing the airport to its current total of 50.
Southwest, which had not previously flown out of Long Beach, grabbed six of those slots.
JetBlue added three slots as part of its plan to turn Long Beach Airport into one of its regional hubs. But that plan was contingent on JetBlue being able to serve Mexico and other Latin American markets, and that in turn required the city approve funding for a U.S. Customs and Border Protection facility.
The Long Beach City Council rejected the funding plan for the customs facility in January 2017 after some residents objected to opening up the airport to international flights. JetBlue within days said it would re-evaluate its plans for Long Beach, a process which it completed last month with the flight cut announcement. The cuts are only to the frequency of flights to seven destinations; no destinations the airline serves from Long Beach are being entirely cut.
Prev Next
For reprint and licensing requests for this article, CLICK HERE.