SWA Aims for Altitude in LB
TRANSPORTATION: Will seek to add as competitor cuts
Friday, May 4, 2018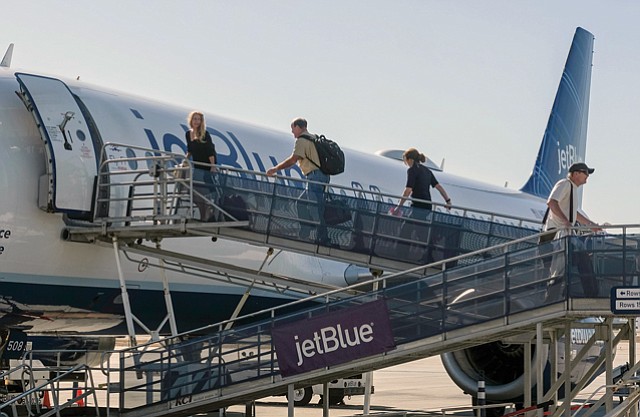 Southwest Airlines hopes to get a significant boost for its operations at Long Beach Airport as rival JetBlue Airways loosens its grip on its lengthy dominance there.
The possibilities for Southwest cropped up last month when JetBlue announced plans to cut 11 daily flights at Long Beach Airport, effective Sept. 5. The move came as part of a broader restructuring of Long Island City, N.Y.-based JetBlue's flights in Southern California, which included the addition of two daily flights at Hollywood Burbank Airport and a return to service at Ontario International Airport with one flight.
Long Beach Airport has 50 commercial flights a day, spread over four airlines. It handled 3.8 million passengers in 2017, a 33 percent increase from the year prior, when a study by Jacobs Engineering Group pegged the total economic impact of the facility and its tenants at $10 billion, with 45,000 direct and indirect jobs.
JetBlue started operations at Long Beach Airport in 2001, and has been the busiest operator there for years. It currently operates 33 daily flights, about two-thirds of the facility's total. The airline also uses bigger planes, on average, than other carriers at Long Beach, a factor that pushes its share of passenger traffic to about 80 percent.
Southwest Airlines – the leading carrier in terms of daily flights and passengers at Hollywood Burbank, Ontario International in the Inland Empire, and John Wayne Airport in Orange County – currently has six daily flights from Long Beach.
These four airports combined for about 25.5 million passengers last year, well below the 84.5 million Los Angeles International Airport handled, but nevertheless a significant supplement to the region's capacity for commercial air travel.
Southwest Airlines and Atlanta-based Delta Air Lines, which also has current operations at Long Beach, are on a waiting list for additional slots to open there, according to airport Director Jess Romo.
Honolulu-based Hawaiian Airlines Inc. also is on the list; it picked up a JetBlue flight slot earlier this year and plans to start service at Long Beach on June 1.
Romo said that a Federal Aviation Administration policy designed to promote competition among carriers requires any available slots at the airport first be offered to any airlines not currently serving the airport. Any newcomers would be allowed to take up to two slots apiece.
Then, airlines already serving the airport – or "incumbent" airlines – get their chance at any remaining slots.
Prev Next
For reprint and licensing requests for this article, CLICK HERE.