Lynwood App Developer Sets Expansion Plans
Startup to use funds from Sequoia to add 50 workers, target drivers outside state
Friday, May 4, 2018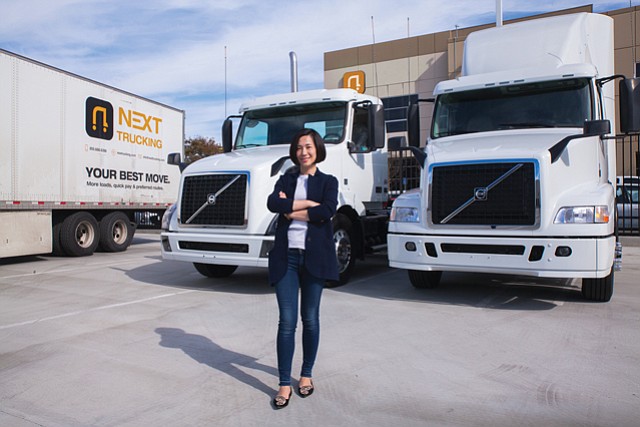 Next Trucking Co-Founder and Chief Executive Officer Lidia Yan said she decided to base her company in Lynwood to make it clear that it is "trucker-centric."
"Our product managers get to talk to the real users every day," Yan said, whose outfit employs 100 people between the Lynwood office and a development office in China.
Next Trucking started in 2015, and creates a free mobile application that connects truck drivers to shippers with accompanying software to manage their loads and deliveries.
The app is now used by about 15,000 drivers and 800 shippers, according to Next Trucking, which takes a cut of between 10 percent and 20 percent from shippers. The company saw revenue jump from $11 million in 2016 to $30 million last year.
The company followed up a $21 million capital infusion from Sequoia Capital in February by announcing plans to hire 50 additional employees last week.
Sequoia Capital made its investment in the first quarter, bringing the total raised by Next Trucking to $27.3 million, according to Crunchbase Inc., a crowd-sourced database that tracks start-ups.
Next Trucking doesn't shy away from competing with Uber Freight, and sees its focus on drivers as an advantage.
Yan said truck drivers on average make $45,000 annually, and typically spend a lot of time on the road.
Regulations, meanwhile, limit drivers to being on the road no more than 11 hours per day, and Yan said 40 percent of capacity is wasted with drivers returning on routes with empty loads.
Next Trucking's app allows drivers to arrange their routes, hours and destinations to increase efficiency and ensure they have loads on return trips home.
"Our product is based on the trucker's need," said Yan. "Uber is very focused on the autonomous truck. They're trying to develop technology for the future while we're focused on solving the problems of right now."
Next Trucking backer Sequoia, as part of an investment group, also has a stake in Uber, according to news reports.
Next Trucking currently requires drivers who use the app to have residence in California, and targets loads with an origin or destination in the state. Yan said the company launched with a focus on Southern California to take advantage of the heavy truck traffic at the ports in Long Beach and Los Angeles, but the goal is to expand nationwide.
Yan said the majority of the new funding will support the hiring, which is a key aspect of an aggressive growth strategy.
"We are seeing record numbers of carriers and shippers continue to embrace our trucker-centric online marketplace instead of relying on outdated processes that no longer serve them," Yan said. "This has resulted in accelerated growth in all areas of our business. As we move into the second half of the year, it is critical to have the right talent in place to meet our targets for additional expansion and customer satisfaction."
The hiring will double Next Trucking's U.S.-based workforce, Yan said, and has already expanded the executive team with the additions of Bryan Jolliff, vice president of sales; Jason Leu, vice president of product; Chris Lankford, vice president of engineering; Jennifer Chang, director of marketing; Shane Van Der Waag, director of drayage and intermodal and Andres Castañeda, director of talent recruitment.
Dollar Shave Adds Execs
Dollar Shave Club Inc., the Marina del Rey-based e-commerce shaving company, is adding four big-name industry veterans to its upper management.
The list includes Alan Wizemann, formerly of Target Corp. and Lululemon Athletica Inc., as chief digital officer; Danny Miles, formerly of Nike Inc., as chief technology officer; Gloria Synn, from Nordstrom Inc., as vice president of member strategy; and David Kujda, formerly of HomeAway, as vice president of experience design.
"These hires join our leadership team at an exciting time, and we believe they will be strategic drivers of DSC's continuing success," said Michael Dubin, founder and chief executive, in a statement.
The company declined to elaborate on its strategic plans.
The business was founded in 2012 and uses a subscription model to sell razor blades.
Dollar Shave Club employs more than 300 in its Marina del Rey office The company said its HQ staff grew count grew 25 percent last year.
Staff reporter Eli Horowitz can be reached at ehorowitz@labusinessjournal.com or (323) 556-8335.
For reprint and licensing requests for this article, CLICK HERE.