First Penthouse Tenant for Center West Building
Irongate leases office space; gets "improvement package" to renovate 23rd floor
Friday, March 30, 2018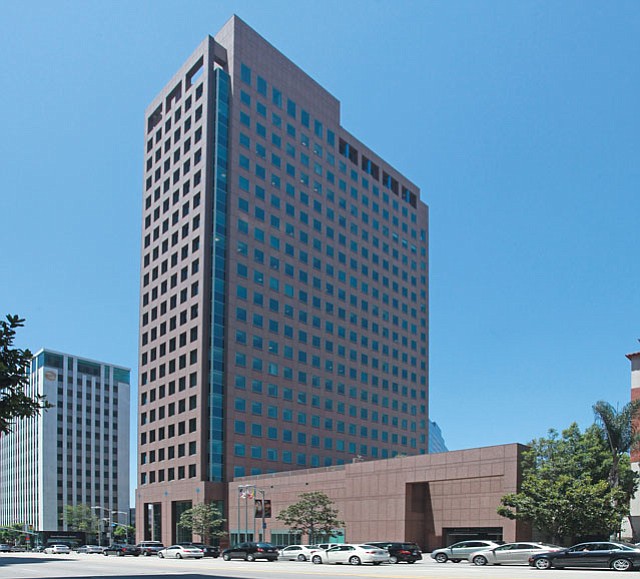 The 15,000-square-foot penthouse on top of the Center West building at 10877 Wilshire Blvd. in Westwood is getting its first tenant – 28 years after the building opened.
Irongate Capital Partners, a real estate investment and development company currently located across the street from the site at the Oppenheimer Tower, will move into the penthouse in the third quarter, according to Kambiz Hekmat, chief executive of Indivest Inc., the building's developer and owner.
Irongate has signed an 11-year lease on the property, which offers a 23rd-floor balcony as well as 360-degree views that take in the Hollywood sign, the mountains and the Pacific Ocean.
Irongate was an attractive tenant because of its reputation as a builder of quality luxury hotels, its strong Southern California ties and "meeting our criteria for rent," Hekmat told the Business Journal.
The penthouse has sat vacant since Indivest bought and developed the property in 1990. It had been offered to various tenants in the past, but no deal had ever been consummated until now, Hekmat said.
Anthony Gatti, a senior vice president at CBRE Group Inc. represented Indivest in the lease negotiation. Richard Ratner, also a senior vice president at CBRE, represented Irongate.
Irongate plans to bring its own touch to the penthouse.
"We gave them a healthy tenant improvement package to build out the space," Gatti said.
Center West comprises nearly 358,000 square feet of office space adjacent to the Hammer Museum in Westwood.
Indivest develops luxury hotels both inside and outside the U.S. One of its recent hotel openings is Plaza La Reina, a six-story, Mission Revival-style luxury hotel and retail center located next door at 10850 Lindbrook Drive in Westwood.
Among Irongate's other projects include the Trump International Hotel Waikiki in Hawaii, the Aspen One mixed-use luxury development in Colorado, a Four Seasons resort in Costa Palmas, Mexico in Baja California and the Ritz-Carlton Residences in Hawaii.
Chinese Investment Drops
Chinese investment in Los Angeles commercial real estate reached its lowest level since 2012 last year, with a 67 percent year-over-year decline in acquisitions by Chinese investors as well as a 90 percent decline in hotel volumes, according to a Cushman & Wakefield study.
Total investment in the Los Angeles market from China and Hong Kong slumped to $446 million in 2017 from $1.4 billion the previous year, the study said. Much of 2016's gains were driven by $1.2 billion in hotel investments, according to Cushman & Wakefield.
Prev Next
For reprint and licensing requests for this article, CLICK HERE.