LA Weekly Aims to Change on Fly
HQ shift follows event cancellation amid boycott
Friday, March 30, 2018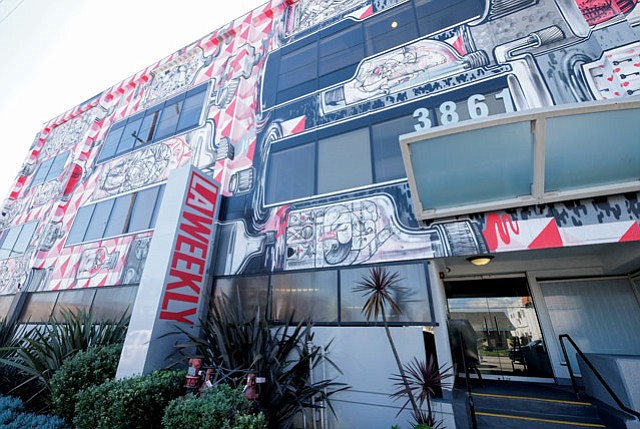 LA Weekly will have a new office in downtown Los Angeles, new editorial staff and a new lineup of events by summer, according to its publisher.
And, no, the 40-year-old alternative weekly isn't going out of business.
"That's honestly laughable to me," Publisher Brian Calle said. "We're tracking revenue the way that we want to track."
Calle declined to offer any specifics on financial performance, which likely took a hit after the 11th-hour cancellation of its March 25 The Essentials event, which commemorates the Weekly's annual list of its favorite 99 Los Angeles restaurants. The cancellation was the second event nixed since Semenal Media, a new ownership group headed by Calle, purchased the paper from Voice Media in November for an undisclosed sum.
The event cancellations –coupled with several longtime advertisers announcing publicly they were withdrawing ads – have raised questions about the Weekly's staying power in an already troubled industry.
Matthew Cooperstein, the Weekly's last publisher under Voice Media ownership, also declined to give specific revenue numbers from his tenure, but said events were important to the its balance sheet.
"When I was there, The Essentials event was profitable and an important extension of our restaurant coverage," Cooperstein said. "We were very reliant on events."
New home?
Some of any revenue lost on event cancellations could be defrayed by another, more literal move: Calle said the Weekly – which was listed as having free distribution of about 160,000 per issue as recently as 2016 – is looking for a new home after Semenal opted not to renew the lease on its headquarters at 3861 Sepulveda Blvd. in Culver City.
Calle said the operation plans to move to an unspecified location downtown this July from their two-story building on the Westside.
"The lease was not a good decision," Calle said of a 10-year-deal set to end around the middle of the year. "The building was way too big for LA Weekly, and it has been for a very long time."
War of words
The event and ad cancellations in the wake of Semenal Media's Weekly takeover, were, at least in part, influenced by Boycott LA Weekly, an informal network of protesters whose grievances include that nine of 13 Weekly editorial staff members were let go amid the ownership change. The cuts – along with Semenal Media's Orange County ties and a roster of backers with conservative leanings – sparked vitriol and spawned the boycott campaign.
For reprint and licensing requests for this article, CLICK HERE.
Prev Next