Deals & Dealmakers: Firm Sees Symbiosis as Strategy
Friday, March 30, 2018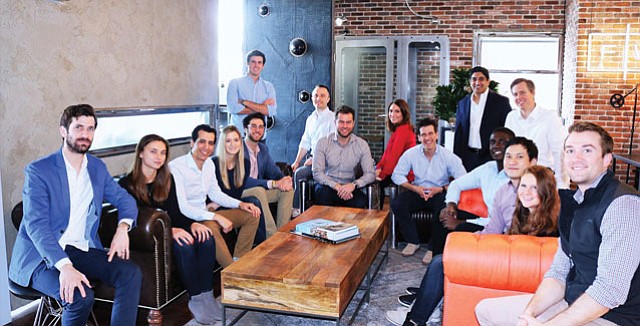 It's been 11 months since real estate tech investment firm Fifth Wall Ventures announced its inaugural $212 million fund, trumpeting partnerships with industry heavy weights such as CBRE Group Inc. and Macerich Co.
The Venice-based outfit has more than doubled its employee count to 19 from nine since then, with several new hires and promotions coming this week for Fifth Wall.
The firm's newest partner is K.C. Cleary, who joined Fifth Wall from McKinsey & Co. Cleary will help manage the firm's partnerships with its anchor limited partners, who all committed at least $15 million last May to help fund the Fifth Wall venture.

The firm also promoted Roelof Opperman and Vik Chawla to firm principals. Fifth Wall co-founder and Managing Partner Brad Greiwe said the pair had been integral in putting deals together for the firm over the past year.
The firm has done 20 deals since it came online last May, and Greiwe said he and co-founder Brendan Wallace, also a managing partner, feel their thesis about Fifth Wall as both an investment and relationship building platform has been validated.
"We've proven that the model works," Greiwe said. "Our anchor LPs are happy and an additional fund is definitely in the cards."
Greiwe did not disclose whether the firm was working on a second fund, or whether Fifth Wall would take on additional institutional investors when it did.
"Whether we expand to other strategics is TBD," he said.
The firm is working for now on maximizing its current relationships, both with its LPs and with the companies it is investing in. Partner Natalie Bruss, who was hired full time in September after consulting for Fifth Wall for almost a year prior, is spearheading these efforts.
Greiwe said the relationship component – putting emerging companies in the real estate tech space together with established industry heavyweights – was where the firm differentiated itself.
"When you put an early stage company together with a large incumbent, you can do some really powerful things," Greiwe said. "LPs adoption of (an emerging company's) tech ultimately can determine if an early stage company lives or dies."
The collaborative philosophy is almost antithetical to the typical tech world ethos of disruption, Greiwe added.
"This is not disruption," he said. "It's enablement and helping establish symbiotic relationships."
Super-Sized Market
Bodega Latina Corp. in Paramount, a subsidiary of the Mexico-based company that owns the El Super grocery markets, has agreed to acquire Fiesta Mart in Texas. The deal, announced March 26, will create one of the largest Latino super market chains in the U.S., executives said.
Bodega's El Super markets added to Fiesta's grocers will give the company 122 stores across California, Arizona, Nevada, New Mexico and Texas, with roughly $3 billion in combined revenue. The chain is owned by supermarket giant Grupo Comercial Chedraui, which has headquarters in Xalapa, Mexico.
Terms of the deal were not disclosed. The sale is expected to close this summer.
"The acquisition of Fiesta allows us to meaningfully expand into Texas via an established, well-known supermarket operator," said Carlos Smith, chief executive of Bodega Latina, in a statement.
The announcement of the Bodega-Fiesta merger comes as competition is ramping up within the U.S. supermarket industry, with Amazon.com Inc.'s $13 billion purchase of Whole Foods Market Inc. last June looming large.
RBC Capital Markets served as financial advisor to Bodega Latina, with Sidley Austin as legal advisor. Food Partners was the financial advisor to Fiesta, with Hogan Lovells acting as legal advisor.
Jakks Considers Offer
Jakks Pacific Inc. said last week it has formed a special committee with Bank of America Merrill Lynch and outside legal advisor Skadden Arps Slate Meagher & Flom to review a recent acquisition offer and begin negotiations.
The Santa Monica-based toy manufacturer and marketer received an offer on Jan. 28 from Hong Kong-based Meisheng Cultural Co. Ltd. to acquire a majority stake in the company. The deal would have Meisheng increase its shareholdings and voting rights to 51 percent from 18 percent by purchasing additional shares at $2.95 per share.
Jakks' special committee has been authorized to negotiate with the Hong Kong company on behalf of Jakks.
Have a deal tip? Henry Meier can be reached at hmeier@labusinessjournal.com or (323) 556-8321.
For reprint and licensing requests for this article, CLICK HERE.