Cedars Hosts VR Pain Management Conference
Doctors look to mitigate pain, reduce reliance on opiates with VR tools
Friday, March 30, 2018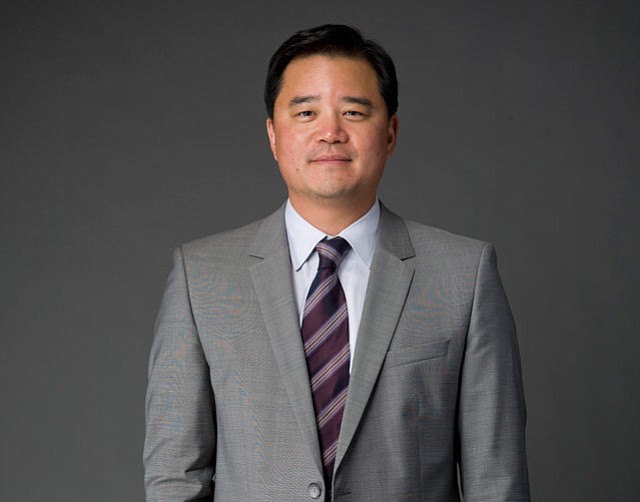 Cedars-Sinai Medical Center is helping lead the field in Los Angeles when it comes to using virtual reality to manage pain in hospital patients.
The Beverly Grove hospital drew VR experts from across the nation for a symposium last week on the emerging medical uses for the technology.
"At Cedars-Sinai, we are having tremendous results using VR to help patients reduce pain levels," said Dr. Brennan Spiegel, a gastroenterologist and director of Health Service Research, author of a recent VR study, in a statement. "In fact, our study shows a 24 percent drop in pain levels for patients using VR."
The two-day conference on March 28-29, led by Spiegel and his VR researchers, drew some prominent names in the emerging field of therapeutic VR to discuss its uses, challenges and medical future.
They included Skip Rizzo, director of medical VR at USC; Kim Bullock, director of Stanford University's VR Clinic; Dr. Daniel Kraft, chair of medicine for Singularity University; and David Rhew, chief medical officer at Samsung Electronics America.
The confab focused on the goggle headsets – now used in entertainment, teaching and health care – that can transport users into a vastly different world.
Cedars-Sinai, one of its earliest adopters of VR technology for medical uses, published a study last May that showed how the 3-D goggles can cut pain in patients suffering from joint injuries to cancer. The research showed it took as little as 15 minutes of what the study dubbed "immersive distraction" – such VR rides in a helicopter over scenic Iceland or an oceanic swim among a pod of whales – for results to be seen.
The technology may be useful to treat chronic pain, which afflicts more than 25 million patients in the U.S.
Chronic pain conditions are often treated with opioids, which have been fingered as a major cause in the opioid epidemic sweeping the nation.
Travelers Cos. Inc. this month announced a collaboration with Cedars-Sinai, Samsung Electronics America, Bayer and AppliedVR Inc. of Century City to test a VR pain-reduction kit for acute orthopedic injuries in a 16-month clinical trial.
"The opioid crisis doesn't just cost money, it costs lives," Spiegel said. "We need to find ways to stem the tide without relying entirely on medicines."
Data on Dollars
Some statistical morsels from the health care and biotech market table:
San Francisco-based Doximity Inc. reported in December that Los Angeles physicians earned on average $350,000 a year in 2017, which trailed the national average of $356,000.

The company, which claims it is the largest online professional network for physicians, said last month that it revised its study with more input from Los Angeles doctors – who got a hefty raise.
Doximity bumped up L.A. doctors' average earnings to $371,227 in 2017, six percent more than previously reported. Doximity now ranks Los Angeles physicians as the highest-paid in the U.S., according to the firm's revised data.
In the biotech realm: Cancer immunotherapies such as those developed by Kite, a Gilead Co. of Santa Monica are expected to fetch billions in revenue in the next few years, according to Frost & Sullivan.
The Mountain View-based global business consulting firm reported this month that adoptive T-cell therapies that engineer a person's immune cells to kill cancer are expected to reach $3.9 billion in revenue by 2022.
Promising clinical trials in CAR-T and T-cell receptor therapies have inspired billions in research from biopharma firms, small companies and research institutions such as UCLA and City of Hope.
In the pharmaceutical realm: The so-called Internet of Things is also expected to reap big bucks.
The connectivity software business is expected to be worth $2.4 billion by 2020, according to London-based GlobalData, up from $420 million in 2015. In North America and Europe, the combined IoT market is expected to reach $1.5 billion.
Pharmaceutical IoT is expected to transform clinical drug trials, drug disclosure, manufacturing and supply chains, as well as remote patient monitoring.
'Hero of Family Medicine'
Hats off to Dr. Jay W. Lee, chief medical officer at Venice Family Clinic, for being hailed by a professional physicians group as a "hero of family medicine."
The California Academy of Family Physicians gave Lee the 2018 hero award, singling him out last month from its 10,000 members for his leadership and legislative advocacy.
Lee was the first Korean-American on the academy's board when he served in 2015 and 2016. The organization credited him for working to address a shortage of primary care physicians, increase physician diversity, ensure access to all patients and increase the voice of family physicians in health policy.
Staff reporter Dana Bartholomew can be reached at dbartholomew@labusinessjournal.com or at (323)556-8333.
For reprint and licensing requests for this article, CLICK HERE.