Laurels for Leaders: Aecom Boss Burke Highlights Class of Annual Honorees
Business Hall of Fame 2018
Friday, March 23, 2018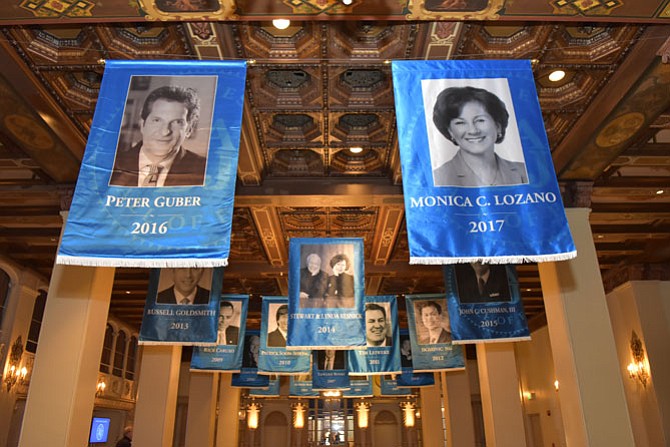 Accountant, lawyer and now banker, Kevin Kim made history helping to shepherd the first voluntary merger of equals between two Korean-American banks – Center Bank and Nara Bank – into BBCN. Then he did it again when BBCN joined with Wilshire Bank to create w, an institution with assets in excess of $14 billion that Kim now leads as chief executive. The deals have produced "the first truly regional Korean-American bank," as noted on page 30 in the profile of the Business Journal's Business Leader of the Year for 2018 in the Finance category.
The Business Journal singled out Michael Burke, chief executive of Century City-based engineering giant Aecom, as the Business Person of the Year for 2018 for his visionary execution of Aecom's bold acquisition of larger rival, URS Corp., not to mention numerous other deals that have made the firm a global presence. Turn to page 20 to read about how Aecom is investing for the future, both globally and in its hometown.
2018 BUSINESS HALL OF FAME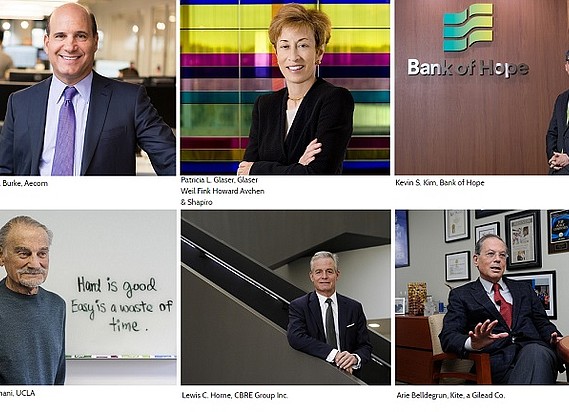 BUSINESS PERSON OF THE YEAR
All About Strategy: How Aecom's Michael Burke Built a Behemoth
BUSINESS LEADER OF THE YEAR: SERVICES
Zealous Advocate All Around: Glaser Built Firm's Lineup of Lawyers Into an "Embarrassment of Riches"
BUSINESS LEADER OF THE YEAR:FINANCE
Hope's Guiding Hand: CEO of 'Super-Regional' Bank Likes Outlook for Korean-American Market
BUSINESS LEADER OF THE YEAR:REAL ESTATE
Horne of Plenty: Head of CBRE's Regional Operations has Ample Resources, Listening Skills
BUSINESS LEADER OF THE YEAR:EDUCATION
Vested in Biotech: Doumani, Business Center Boons for UCLA
BUSINESS LEADER OF THE YEAR: HEALTH CARE
Professor as Entrepreneur: UCLA's Belldegrun on to Next Biopharma Enterprise
Prev Next
For reprint and licensing requests for this article, CLICK HERE.