Laurels for Leaders: Aecom Boss Burke Highlights Class of Annual Honorees
Business Hall of Fame 2018
Friday, March 23, 2018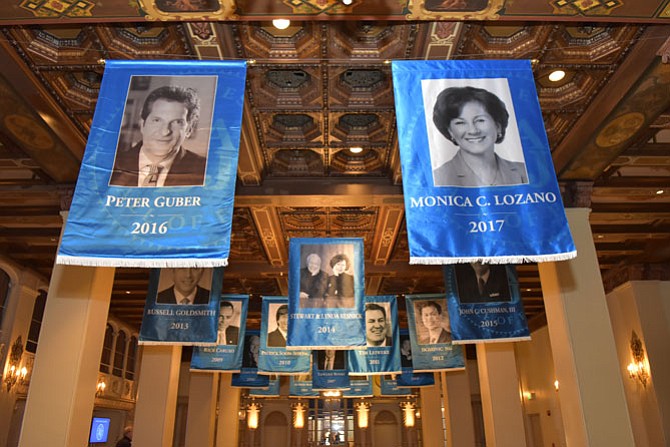 The leaders honored at the Business Journal's 2018 Business Hall of Fame Awards ceremony last week have earned substantial success and attention for themselves and their companies.
Their accomplishments also have touched countless lives in broad and positive ways.
Consider Dr. Arie Belldegrun, co-founder of Kite Pharma Inc., whose profile you can read on page 35. The Business Journal named Belldegrun as Business Leader of the Year for 2018 in the Health Care category for a life dedicated to finding cures for cancer—as a professor and surgeon at UCLA, an author of numerous scientific papers on the disease, and creator of several drug companies that aim to end it. His most recent endeavor, Kite, sold for $12 billion last year.
Roy Doumani, another founding force behind Kite Pharma and several other businesses, including a bank, a real estate firm and other biotech companies, has used his edgy business savvy and innovative resourcefulness to create the UCLA Business of Science Center. A "biotech hero," as one contributor in Doumani's profile on page 32 referred to him, Doumani has shown UCLA how to turn science and intellectual property into dollars, and is making sure that the next generation is learning that as well. The Business Journal named Doumani Business Leader of the Year for 2018 in the Education category.
Patricia Glaser has to fight - often in the public eye - on behalf of famous legal clients embroiled in drama. Glaser and the attorneys at her Century City law firm maintain a laser focus on cases to live up to Glaser's convictions for advocacy and due process – a passion that played a key part in her honors as Business Leader of the Year for 2018 in the Services category. For more, please read her profile on page 28.
Lew Horne brings a surprising breadth of creativity to his duties as president of the Southern California-Hawaii division of CBRE Group Inc., the world's largest commercial real estate services and investment firm. Horne oversees thousands of employees across 16 regional offices that manage more than 80 million square feet of commercial property. He maintains his outfit's standing as a leader in the industry by creating ways to stay ahead of the industry's fierce competition. It's a matter of "trying to get to the future first," as you'll see on page 34. Horne's forward-thinking mentality and methodology brought him honors as the Business Journal's Business Leader of the Year for 2018 in the Real Estate category.
Accountant, lawyer and now banker, Kevin Kim made history helping to shepherd the first voluntary merger of equals between two Korean-American banks – Center Bank and Nara Bank – into BBCN. Then he did it again when BBCN joined with Wilshire Bank to create w, an institution with assets in excess of $14 billion that Kim now leads as chief executive. The deals have produced "the first truly regional Korean-American bank," as noted on page 30 in the profile of the Business Journal's Business Leader of the Year for 2018 in the Finance category.
The Business Journal singled out Michael Burke, chief executive of Century City-based engineering giant Aecom, as the Business Person of the Year for 2018 for his visionary execution of Aecom's bold acquisition of larger rival, URS Corp., not to mention numerous other deals that have made the firm a global presence. Turn to page 20 to read about how Aecom is investing for the future, both globally and in its hometown.
2018 BUSINESS HALL OF FAME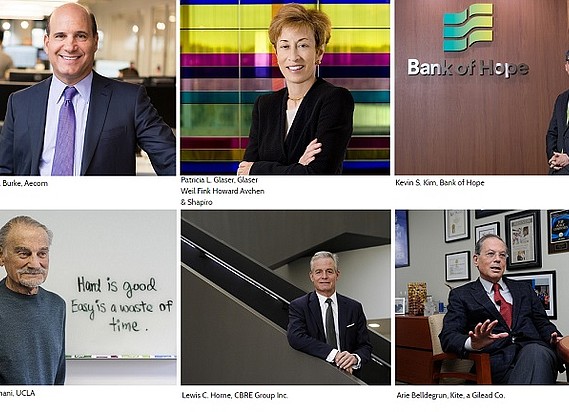 BUSINESS PERSON OF THE YEAR
All About Strategy: How Aecom's Michael Burke Built a Behemoth
BUSINESS LEADER OF THE YEAR: SERVICES
Zealous Advocate All Around: Glaser Built Firm's Lineup of Lawyers Into an "Embarrassment of Riches"
BUSINESS LEADER OF THE YEAR:FINANCE
Hope's Guiding Hand: CEO of 'Super-Regional' Bank Likes Outlook for Korean-American Market
BUSINESS LEADER OF THE YEAR:REAL ESTATE
Horne of Plenty: Head of CBRE's Regional Operations has Ample Resources, Listening Skills
BUSINESS LEADER OF THE YEAR:EDUCATION
Vested in Biotech: Doumani, Business Center Boons for UCLA
BUSINESS LEADER OF THE YEAR: HEALTH CARE
Professor as Entrepreneur: UCLA's Belldegrun on to Next Biopharma Enterprise
For reprint and licensing requests for this article, CLICK HERE.