EVgo Lowers Electric Vehicle Charging Rates
Company looks to California as market leader, moves headquarters to L.A
Friday, March 23, 2018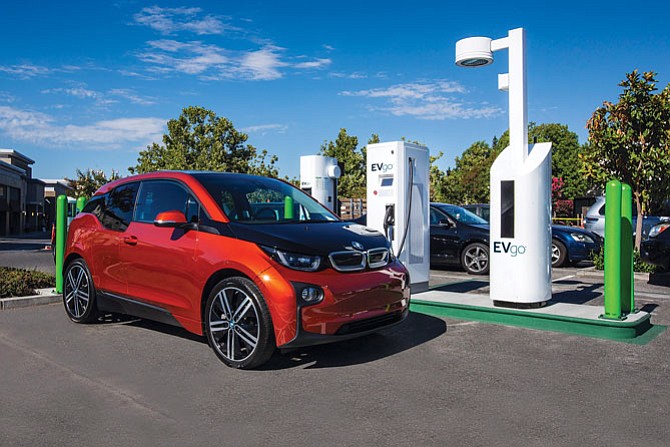 Sawtelle-based EVgo, which manufactures electric vehicle charging stations, announced a price drop for customers this month, with Californians getting a special discount.
The company said California users who shell out a $10 monthly fee – down from $20 – would pay 15 cents a minute to charge their vehicles, or about $9 per hour. The monthly fee is applied as a pre-paid credit.
EVgo also eliminated a $4.95 session fee for local pay-as-you-go customers, while holding rates steady at 20 cents a minute or $12 per hour in that category.
The move could put pressure on EVgo's Monrovia-based competitor AeroVironment Inc., makers of unmanned aircraft and electric vehicle charging stations. AeroVironment charges $19.99 a month for an electric vehicle charge subscription. The monthly subscription gives users unlimited access to charging sessions ranging from $4 to $7.50 at fast-charging stations, according to its website.
The electric vehicle industry is expected to grow – a recent report from Bloomberg New Energy Finance said that 35 percent of new vehicles sold in 2040 will be electric.
EVgo relocated to Sawtelle from Houston, Texas, last summer and counts 60 employees on its payroll. A big part of the move was to be in the midst of the country's largest electric vehicle market, said Terry O'Day, vice president of product strategy.
"California is the largest electric vehicle market in the world and we moved to Los Angeles to be closer to our customers," he said.
O'Day said the company has tens of thousands of customers and 200 of the company's 1,100 charging stations are in the five-county Southern California region. Customers can use the company's app to locate the stations.
Many of the company's charging stations can be found at malls and retailers including Walmart Inc. and Amazon.com Inc. subsidiary Whole Foods Market Inc., O'Day said.
Port of Long Beach-GE Pilot
The Port of Long Beach and GE Transportation launched a pilot program this month called the "Port Optimizer Solution," a centralized database with the goal of moving cargo more efficiently.
GE Transportation, a division of Boston-based General Electric Co., launched a similar pilot program with neighboring Port of Los Angeles last year.
The effort with Long Beach goes further.
"The pilot with the Port of Long Beach is larger in scope … with at least two marine terminals participating and the intent to include all three shipping line alliances," said Jennifer Schopfer, vice president of transport logistics for GE Transportation. "With LA, we worked with one terminal and two shipping lines."
There are three global shipping alliances, which function like airline alliances, with an aim of sharing space on vessels to cut costs.

They are 2M, a partnership of the world's two largest carriers, Denmark's Maersk Line and Geneva-based Mediterranean Shipping Co.; Ocean Alliance, made up of four carriers, including French and Chinese lines; and a third known simply as the Alliance, with five members, including three Japanese carriers.
The three partnerships account for 96 percent of container capacity trade among Asia and West Coast ports and 77 percent of global container capacity, according to the Port of Long Beach.
GE's proprietary pilot database will include information on inbound cargo, Schopfer said. The current system allows for that information to be gathered two days prior to a ship's arrival while the database will have information two to three weeks ahead of a ship's arrival for better planning, she added.
Other features include user-specific views.
"Today, to know where to drop off an empty container, truckers have to look at over 13 different websites. With our solution, they have that information in real time, at their fingertips in one place," Schopfer said.
Glass Manufacturer Acquired
Atwater Village-based Hehr International Inc., manufacturers of tempered and laminated glass for the RV, specialty vehicle and transit segments of the transportation industry was acquired by Lippert Components Manufacturing Inc. last month. Terms of the deal were undisclosed.
Elkhart, Ind.-based Lippert is a wholly owned subsidiary of LCI Industries in White Plains, New York.
Neither LCI nor Hehr returned calls requesting comment.
Privately-held Hehr recorded $55 million in net sales for the twelve months ended December 2017, according to a press release.
LCI reported net sales of $2.1 billion in 2017 according to a filing with the Securities and Exchange Commission.
Staff reporter Shwanika Narayan can be reached at snarayan@labusinessjournal.com or at (323) 556-8351.
For reprint and licensing requests for this article, CLICK HERE.