Seritage Growth, Invesco Partner to Own the $145M Development in Former Sears Santa Monica Space
Thursday, March 22, 2018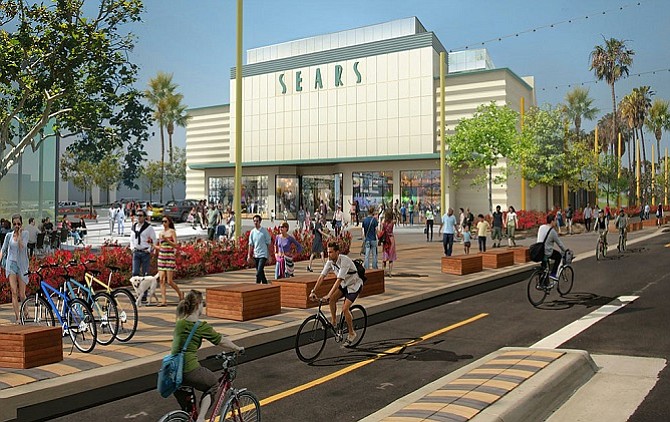 REIT Seritage Growth Properties and investment firm Invesco Real Estate have formed a joint venture partnership to own the 96,500-square-foot former Sears department store at 302 Colorado Ave. in Santa Monica, which is planned to be transformed into a $145 million office and retail development, the companies announced.
The property, called The Mark 302, is located walking distance from the Los Angeles County Metropolitan Transportation Authority Expo Line's Downtown Santa Monica station. It's also located near the beach and across the street from the Santa Monica Place shopping center.
Seritage sold a 50 percent interest in the Mark 302 project to Invesco, receiving $50 million in proceeds at closing, the companies said in a statement. Seritage said it used the money to repay existing mortgage debt associated with the property.
"We believe this strategic transaction is a testament to both the quality of the asset and the strength of our platform to envision, entitle and execute on the extensive repurposings of formerly single-tenant buildings into multi-tenant, mixed-use destinations," said Benjamin Schall, president and chief executive officer of Seritage Growth Properties, in a statement.
The former Sears store, which dates from 1947 and was declared a landmark in 2004, closed last year. In 2015, the long-struggling Sears created Seritage, a publicly traded real estate investment trust that took control of the property.
Sears Holding Corp. stock currently trades below $2.30 per share – a year-over-year decline of approximately 70 percent. Seritage Growth Properties Class A shares rose more than 2 percent in Thursday trading to more than $35 per share.
Real estate reporter Ciaran McEvoy can be reached at cmcevoy@labusinessjournal.com or (323) 556-8337.
For reprint and licensing requests for this article, CLICK HERE.