2018 Automotive Review: Connected Car Growth Means Growth of Legal Concerns
Custom Content by the Los Angeles Business Journal
Monday, March 19, 2018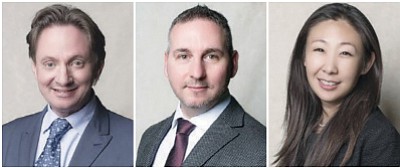 Recent headlines increasingly herald a new era in connected cars – from Avis/Budget's agreement to purchase 10,000 connected Toyota vehicles, to reports of wireless payment systems being integrated into vehicles for drive through purchases. Vehicle connectivity is seen as a high growth, high revenue proposition, not just for the automobile industry but also for various industries "connected" to the sale, servicing and use of vehicles.
A "connected car" is one that has any form of wireless connection, connecting its user and the outside world. For example, Cadillacs equipped with an early version of OnStar Services, where an airbag deployment would activate a voice cellular phone call with OnStar's service center, were some of the very first connected cars.
Today, connectivity often comes in the form of a 4G data connection directly from the car to the Internet, and access to that connection inside the car via a direct connection to automotive systems, as well as WiFi hotspot capability to provide mobile phones and other personal devices with Internet access. Once connectivity exists, the number of connections and purposes for connections become virtually unlimited. A few examples include pay-for-use insurance sensors, repair/maintenance management, autonomous driving data transmission and reception, and, of course, and in-car entertainment.
Automobile manufacturers and other players in this space such as Verizon, have recognized the market potential in connecting the car to the Internet, and in connecting devices to the car. Several of these companies offer devices that connect to the onboard diagnostics (OBD or ODB2) port on vehicles. The most basic of these devices are used to display vehicle diagnostics (the original purpose of the ports) to owners. Some OBD2 devices also offer GPS location services and safety scores or more detailed information on engine, brakes and other vehicle diagnostics. A few devices offer to store information about the car in a subscription-based cloud while others, like Verizon's HumX, combine the ODB2 connection with the device's own 4G network connection.
For car dealerships and aftermarket telematics companies, connectivity offers new connected car solutions for consumer entertainment, vehicle safety, lot management, accurate vehicle data for service and maintenance marketing/ retention opportunities, and new F&I consumer product offerings for modern location tracking/stolen vehicle recovery service. The future holds brand new marketing opportunities and business management solutions for the car business that enables a tech-savvy dealership to thrive.
The rapid development of technology fuels a corresponding shift in the focus of the automotive industry, which can be seen in the tremendous recent growth in patent filings by manufacturers and other industry players for software and electronic devices. All of this comes at a time when pre-5G and 5G will soon provide a huge jump in bandwidth and reliability of cellular data communications. The concurrent development of the components of "connected car" technology points towards the inevitable increase in concern and public scrutiny on security and privacy benchmarks. The enormous amounts of personal and sensitive data posed by connected vehicles, such as real time precise geolocation data and the contents of driver communications from mobile phone connections, make data collection issues impossible to ignore. Recent roundtable discussions held by the Federal Trade Commission invited public comments by industry representatives, consumer advocates, academics and government regulators to discuss issues related to connected vehicle and autonomous vehicle data collection, privacy and security practices of vehicle manufacturers, the role of different government agencies and self regulatory standards. Federal and state regulatory effort to embrace technology that is in constant flux and invite public commentary marks the start of a long journey to provide legal benchmarks and safeguards.
Prev Next
For reprint and licensing requests for this article, CLICK HERE.