Jamison Properties Opens First Ground-Up Units
72 units to start; three others to come in L.A. for Koreatown developer
Friday, March 9, 2018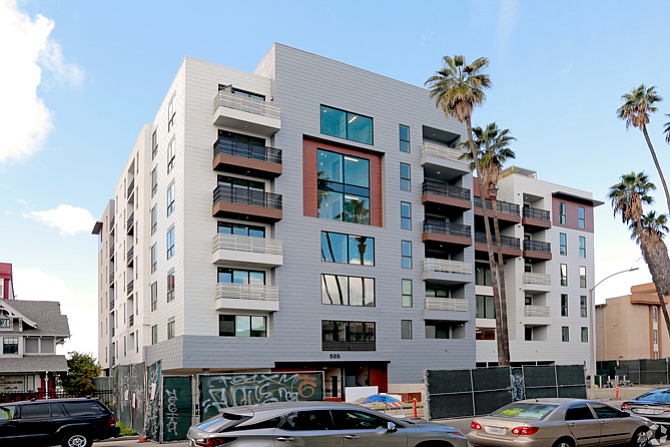 The building, which opened in 1931 during the depths of the Great Depression, is home to the Exchange LA nightclub. It was designated a Los Angeles Historic-Cultural Monument in 1979. The Pacific Stock Exchange, formed in 1956 by a merger of the Los Angeles and San Francisco stock exchanges, moved out of the building in 1986 and ceased operations in Los Angeles in 2001.
PAX America, the building's previous owner, bought the property in 2006 for a reported $7.6 million. It filed for bankruptcy protection in 2013.
Art for All
West Hollywood-based developer Metros Capital has extended the deadline to March 19 for "ColorLA," a public art contest for visual artists to display their works at several of its buildings.
Metros has given artists more time to prepare proposals, which will be judged by a panel of art community figures as well as Metros Capital principals, the developer said in a statement.
The winners will be announced later this month, and chosen works will be installed in Metros Capital's residential buildings in common areas such as courtyards, underground parking spaces, hallways or large exterior walls.
The developer currently is renovating several residential buildings in Hollywood and West Hollywood.
Participating artists will have the opportunity to showcase their talents via paintings, murals, video displays, mosaics or sculptures, the company said.
Nick Halaris, Metros Capital co-founder, said in a statement that the company hopes to "bring creativity, expression and inspiration into places where these qualities have never really been found."
Staff reporter Ciaran McEvoy can be reached at (323) 556-8337 or cmcevoy@labusinessjournal.com.
Prev Next
For reprint and licensing requests for this article, CLICK HERE.